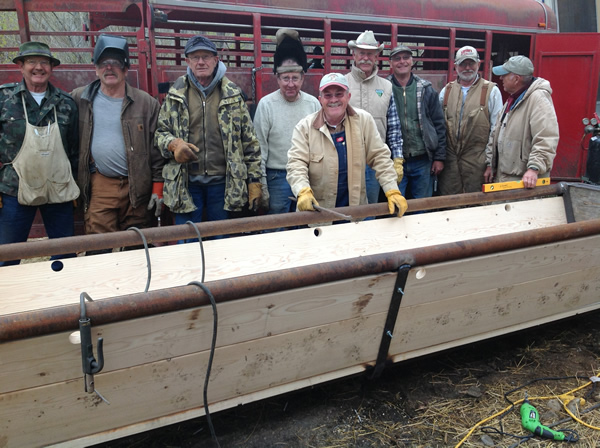 2015 was a very productive year for the Shoshone Backcounty Horsemen of Northwest Wyoming. The SBCH has a core group of about a dozen people who enable us to accomplish many great projects. This year alone we planned and built 4 new amazing corral on the Wood River, repaired 6 feed bunks at Jack Creek, built a trailhead at Big Creek, and cleared 173 miles of forest trails.
The 6 feed bunks at Jack Creek were rebuilt and repaired with funding help from a BCHA Education Foundation Grant. This project involved a redesign and rebuild of 6 feed bunks at the Jack Creek trailhead. These bunks had been in place for many years and had many broken rotted boards. The Jack Creek Trailhead is a popular destination for many horsemen from all over the United States and is heavily used by local horsemen. Horsemen were reluctant to use these bunks because of poor repair resulting in resource damage.
The repair and redesign of each manger would cost about $415 in material plus all the labor and equipment required to complete the project.  The SBCH requested $1000 from the BCHA Education Fund to help defer some of the cost. We as SBCH members would contribute the additional money needed to cover the cost of the project and  also supply the labor and equipment needed. We had an early spring and were able to complete the project in mid May. We had 4 skilled welders volunteer their time and equipment plus 7 eager helpers to complete this project. With all the  great help and good weather we were able to get all work completed in about 2.5 days.
The funding from both the BCHA Education Foundation Grant and SBCH plus the labor and equipment supplied by SBCH members made this project possible.  Thank you to all made this another very successful year for the SBCH of Northwestern Wyoming.
Bruce Fauskee
Shoshone Backcountry Horsemen
Service Chairman