Education
One of BCHA's mission is to educate, encourage and solicit active participation in the wise use of the American backcountry resources by horsemen and the general public commensurate with our heritage and "Leave No Trace" principles.
New Members Education Curriculum

The BCHA Education Committee has developed an educational curriculum for educating new leaders and members. It is a matrix of links pointing to online sources of curriculum aimed at providing training to new members and offices. The education curriculum matrix is currently available only online, it documents training materials to help new members and offices to more quickly fill leadership roles and responsibilities. The Education matrix includes a basic BCHA 101, new officer training and more advanced training topics covered under BCHA 201.
Leave No Trace Stock Users Education Program
Leave No Trace (LNT) was created by the US Forest Service in the 1960's, when recreation on public lands increased significantly, with a corresponding level of damage to those wild places. Then in the early 1990s, the Forest Service worked with the National Outdoor Leadership School to develop hands-on, science-based minimum impact education for non-motorized recreational activities.To educate, encourage, and solicit active participation in the wise and sustaining use of the back country resources by horsemen and the general public.
This statement is the basis for the BCHA LNT Stock Users Education Program. The BCHA Board has directed that we become the primary trainer of stock users in LNT principles and practices nationally. To that end the LNT Master's Education Program was established. The program is a partnership between BCHA, State and Affiliate Members, the US Forest Service and LNT Inc.
BCHA coordinates, manages and monitors the program in cooperation with State and Affiliate memberships. Qualified BCH members are selected to become LNT Master Educators.
The students are taught and teach the LNT Principles and Practices outlined in the LNT Master Educators Handbook. Upon completion of the course the Master Educators teach Train the Trainer courses in cooperation with the local BCH units. The LNT Trainers then put on LNT Awareness Workshops. Twenty of our state and affiliate memberships have already had a member attend the Master Educator Course.

Back Country Horsemen of California (BCHC) is being nationally recognized for our leadership in Leave No Trace education of stock use. In 2015 they were awarded the contract to provide the only Leave No Trace Stock Master Educator course in the country. BCHC earned this remarkable opportunity through hard work, sustained effort in promoting environmental friendly land use with stock. The classes will be taught by BCHC's Wilderness Riders and Master Educators of LNT.
Back Country Horsemen of California provides the "Leave No Trace" Stock Course regularly every April, it is switched from Northern California to Southern California each year as well as offering additional classes as the needed. For details on the BCHC 2018 LNT Master Class you'll find it here. They also can provide a Team of Instructors to travel to your State under special arrangements. To learn more about this exciting opportunity, contact Back Country Horsemen of California through their website www.bchcalifornia.org, or contact Stacy Kuhns lnt@bchcalifornia.org
The focus of our training and education activities are the seven LNT Principles: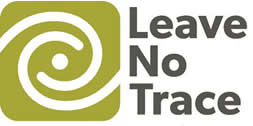 Plan and prepare
Travel and camp on durable surfaces
Dispose of waste properly
Leave what you find
Minimize campfire impacts
Respect wildlife
Be considerate of other visitors
Leave No Trace for Horsemen Video
US Forest Service Trail Fundamentals
As a BCHA member who communicates to the Forest Service on public trail issues should be familiar with the trail fundamentals that include five key concepts that are cornerstones of Forest Service trail maintenance and management, Trail Type, Trail Class, Managed Use, Designed Use, and Trail Design Parameters.
The US Forest Service provides a website with training material and documents on Trail Classification, or as it is referred to on the site is Trail Fundamentals.
This training was given to BCH members at a previous national convention, it is available for download.
Introduction to Trail Classifications, Download – PDF, and PDF1
Part 1 –Why we need to be Concerned, Download – PDF, or PPT Presentation
Part 2 – Understanding Trail Fundamentals, Download – PDF, or PPT Presentation
Part 3 – Approaches for Obtaining and Validating Data, Download – PDF, or PPT Presentation
Part 4 – Example Responses, Download – PDF, or PPT Presentation
Planning Process, Download – PPT Presentation
USFS Ninemile Wildlands Training Center
Ninemile Wildlands Training Center (NWTC) is gearing up for another year of providing quality hands on traditional skills training. Each year classes are available on Teamster Driving, Basic and Advanced Packing techniques, Horsemanship, Horse Handling & Training, Defensive Horsemanship, and Firearms Handling for Packers, for more information on this years classes go to the Ninemile web site,
call 406-626-5201 or write to the address:
Ninemile Wildlands Training Center
Ninemile Ranger Station
20325 Remount Road
Huson MT 59846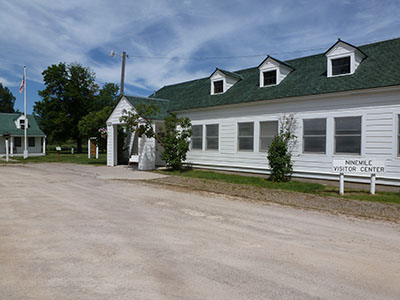 The NWTC was started in 1988 to provide traditional skills training to government employees. In 1998, Congress passed legislation allowing us to open our classes to the public through a program called Heritage Expeditions. The Ninemile Wildlands Training Center is located at the historic Ninemile Ranger Station on the Lolo National Forest in western Montana. Ninemile Ranger Station is located approximately 25 miles west of Missoula, MT. Our facility, the Ninemile Remount Depot, is listed on the National Register of Historic Places.
Packing Videos
We have made available to you some packing training videos by Casey Hufstader and Mack Long. The videos featuring Casey Hufstader will teach you mule packing basics, how to fit a pack saddle and tieing a Walker Hitch. There is also a 8 videos featuring Mack Long covering all aspects of packing from basics to advance packing technics.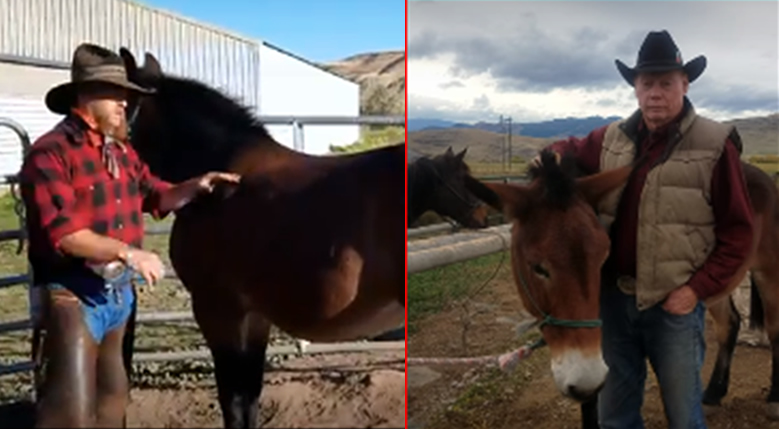 Equestrian Educational Videos
Here are some Equestrian related educational and other videos that are important to watch. They cover defensive horsemanship, how to approach users on multi use trails and other Equestrian related Forest Service videos we recommend members watch.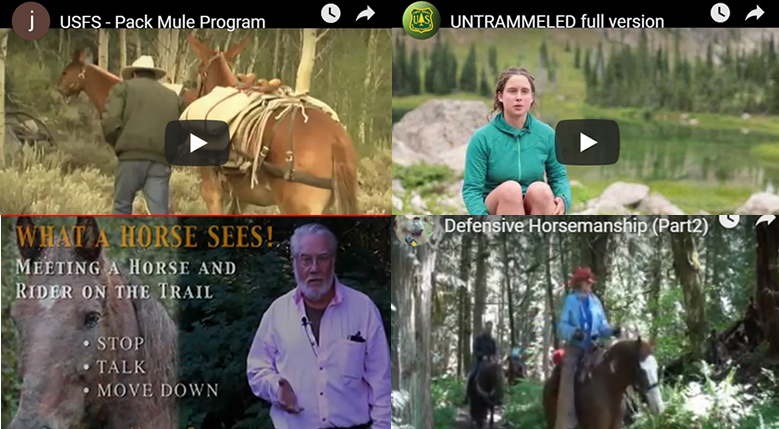 Recommended Educational Reference Documents and Articles
What if You Cross the Rainbow Bridge First? What would happen to your animals if you suddenly died? An accident or sudden illness can take us when we think we still have plenty of time to "get our affairs in order". While our spouses and children are able to eventually re-adjust their lives without us, our pets and livestock cannot…….without …
Read More
Untrammeled, a film produced in 2014, celebrates the 50th anniversary of the Wilderness Act and examines the transformative power of wilderness on youth and the importance of getting young people into the backcountry. The focus of the film is youth speaking to youth about wilderness – and the passing of the baton to the next generation. High school youth from …
Read More
Job Hazard Analysis (JHA) Packing with LivestockEquestrian Design Guidebook for trails, trailheads, and campgrounds BCHC Manure Bunker Manure Bunker Roof Manure Bunker Slab Pipe Hitch Rail Accessible Gates for Trails and Roads Drawings for Trail Construction & Design Bridge Design & Drawings Information and links on this page provided by BCH of California
Pre-trip Planning Acquire trail map(s), and talk to other riders that know the area Select trail appropriate for the expectations of your group Select trail difficulty and length that is safest for the least experienced horse and rider Select trails that avoid high mountain areas during afternoon lightning storm seasons Contact trail owner or manager for current trail conditions and …
Read More