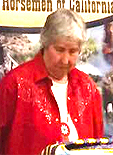 Back Country Horsemen of America Life Time Achievement Award
Whereas… Ann first sat on mule when 3 months old and was raised on Rankin Ranch where she worked with cows, and horses.
Whereas … Ann started with High Sierra Stock Users before BCH was in California, and then in 1986 CA with several other states joined BCH to give a "unified voice" to stock issues nationally.
Whereas …Ann started the BCH of California unit in Kern River Valley. She worked with Mylon Filkins, who as helpful in showing Ann the national implications of BCH, Also Dennis Dailey helped Forrest Plan understanding. She organized the interactions between developing units in California.
Whereas … Ann initially turner downed down the BCHA chairmanship, due to working at her husband's vet office, ultimately, Ann did volunteer to help and has acted as BCHA treasurer, secretary, and vice chairman.
Whereas … Ann was also a member of Kern Sierra Unit in CA. She worked with Sierra Club and other organizations like CCC to help our mission of keeping
stock in the wilderness.
Whereas … Before the "Hike the Hill" event was formed, Ann traveled with Mylon Filkins to Washington DC to talk with congress about our mission and
issues.
Whereas … Ann has received numerous awards from 4H and FAA groups for educational horse programs. She was awarded the Best friend of the Packer at Mule Days in 2011.
Whereas … Ann studied the Wilderness Act and became very conversant with its provisions. She became a source of advice, and gave freely of her time
about wilderness matters.
Whereas … Ann worked extensively with her local ranger district on trail classification matters. Ann believes that all trails with a history of stock use to
be inventoried and maintained. When her objections about removing trails from the trail inventory were ignored, Ann convinced her local unit to file suit in federal court to remedy the situation.
Therefore, let it be resolved …that the 2015 Back Country Horsemen of America
Lifetime Achievement shall be awarded to: Ann Lange.