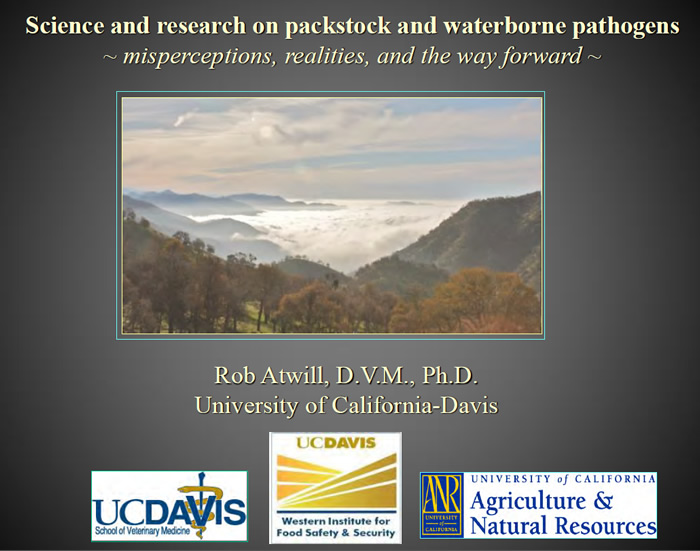 Dr. Rob Atwill of the University of California, Davis, provided the following PowerPoint presentation during BCHA's 2015  National Board Meeting held in Sacramento. He summarized the growing body of science that demonstrates native mammals, including squirrels and marmot, are far more likely to be the source of water-borne pathogens than either livestock or pack stock. In one study at Yosemite National Park, a population of Belding's ground squirrel was documented to have shed Cryptosporidium oocysts at a rate that might be matched by no less than 3,000 horses.
Click to view Dr. Atwill's PowerPoint presentation, titled "Science and research on Packstock and Waterborne Pathogens"
Dr. Atwill's work is the strongest evidence yet that stock use in the Sierra high country is unlikely to result in introduction into waterways of pathogens that cause human illness (giardia, E-coli, etc.). What he found was that native mammals and birds harbor much larger amounts of these pathogens–sometimes hundreds to thousands of times higher–than pack stock. Moreover, most adult packstock were found to pose near-zero risk of harboring such pathogens.
Edward R. Atwill, D.V.M., M.P.V.M., Ph.D.
Director, Veterinary Medicine Extension
Director, Western Institute for Food Safety and Security
Professor, Department of Population Health and Reproduction
School of Veterinary Medicine
University of California-Davis