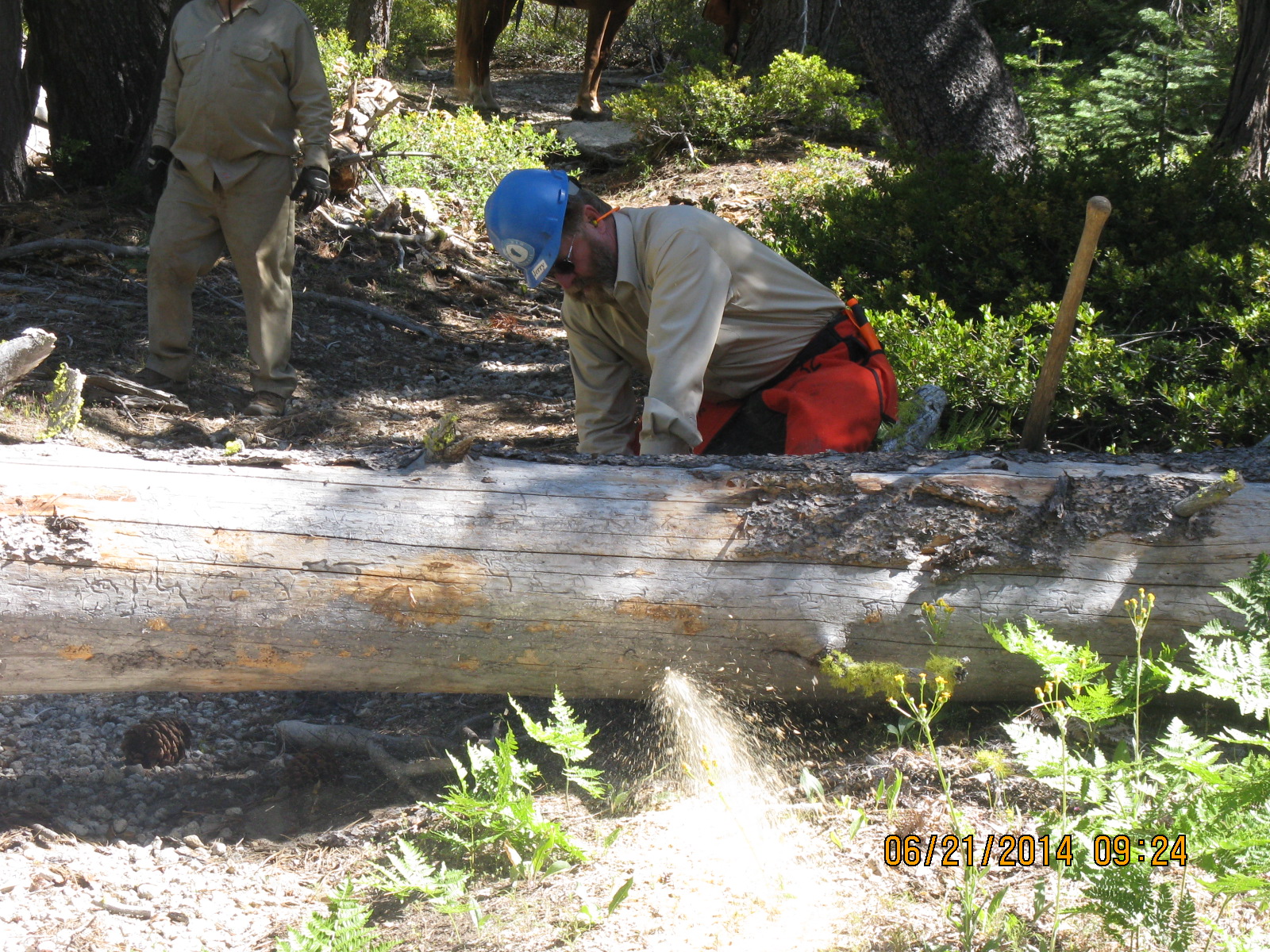 The folks at Back Country Horsemen of America feel very fortunate to live in such a beautiful country, and are dedicated to protecting our right to travel this stunning landscape by horseback, as our ancestors did. An important part of that goal is the down and dirty labor required to re-open trails and access roads after storms of rain, snow, ice, and wind.
A Special Place
A storm with winds in excess of 140 mph hit the Sierra Mountains in November 2013, leaving many popular campgrounds and trails inaccessible due to toppled trees. Since then, various groups have made cleanup efforts in the affected area.
The Mother Lode Unit of Back Country Horsemen of California spent two days in the Eldorado National Forest opening up trails around the Tells Creek Horse Camp, which is nestled among the pristine lakes of the Crystal Basin at 6,300 feet above sea level.
From there, adventurers on foot, horseback, mountain bikes, skis or snowshoes explore the local land that was the Van Vleck cattle ranch from the 1860s to the 1960s. Some also take longer trips into the Desolation Wilderness, 63,960 acres of alpine forest, granite peaks, and glacially-formed valleys and lakes.
A Big Job
BCHC's first work day began with a mandatory safety briefing, then the volunteer sawyers, trained by the US Forest Service, and their helpers began work on a two-mile section of the Two Peaks Trail from the Tells Creek Horse Camp to the Bassi Creek crossing. The most experienced crewmember commented that this was the worst storm damage he'd seen in 18 years of trail maintenance.
Leapfrog Isn't Just a Game
Seven workers each rode a saddle horse and four pack animals hauled an assort¬ment of chainsaws, axes, shovels, and other equipment, including a Peavey pry bar. This odd apparatus looks like a five-foot pry bar with a hinged fish hook near the end, which enables a single person to roll large, heavy log segments off the trail without back strain.
The Mother Lode Back Country Horsemen work group separated into two teams and used the very effective leapfrog technique. The first team unpacked and cut the first obstacle. While they cleared the area of debris and repacked the gear, the second team proceeded to the second obstacle, unpacked and cut that one.
Teams of three or four people makes quick work of the task without members getting in each others' way. Working in shifts also allows teams to last a bit longer at this exhausting elevation. If they en-countered a nest of tangled logs, the two teams took turns cutting and removing debris.
Up to the Challenge
The Mother Lode Unit spent six hours clearing about three dozen trees from two miles of trail. After watering their stock at the Bassi Creek crossing, the return trip took only 45 minutes on the now open track. The next morning, the group crossed Bassi Creek and cleared about 20 trees from the next part of the Two Peaks Trail. There they met up with another work party who had cleared trails around Barrett Lake and Pearl Lake on the far side of the summit of Two Peaks East.
The job is tough, but projects like this are essential to preserving our access to America's wild places. Back Country Horsemen groups from coast to coast routinely spend over 300,000 volunteer hours each year maintaining trails, trail heads, and camps for all users.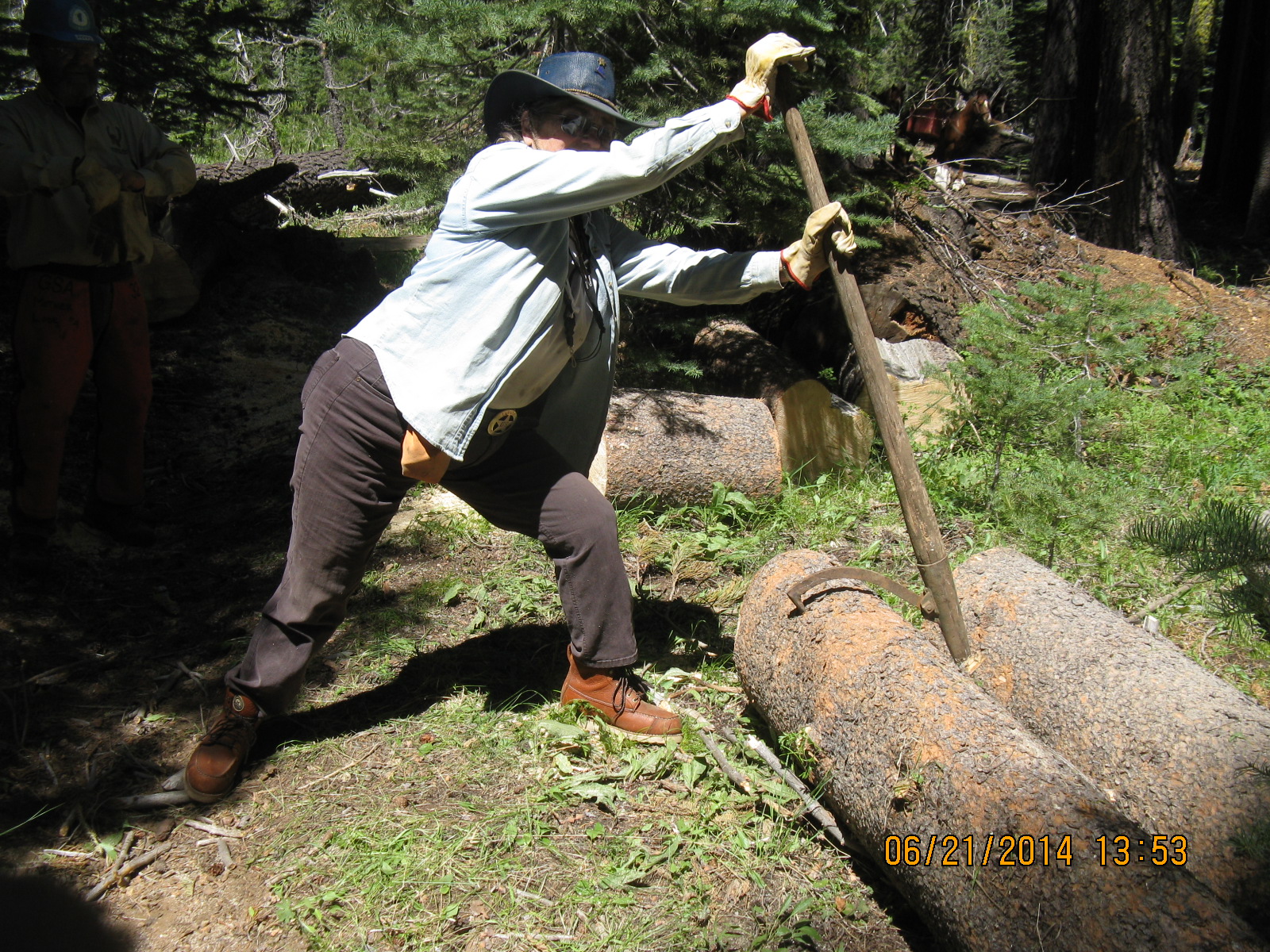 About Back Country Horsemen of America
BCHA is a non-profit corporation made up of state organizations, affiliates, and at-large members. Their efforts have brought about positive changes regarding the use of horses and stock in wilderness and public lands.
If you want to know more about Back Country Horsemen of America or become a member, visit their website: www.backcountryhorse.com; call 888-893-5161; or write PO Box 1367, Graham, WA 98338-1367. The future of horse use on public lands is in our hands!
###