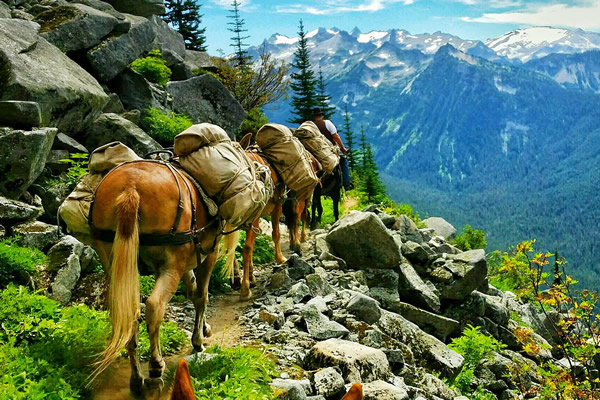 Back Country Horsemen of America Values Every Member
by Sarah Wynne Jackson
It has never been a better time to be a member of Back Country Horsemen of America, the organization that keeps trails open for horse use. The challenges to preserving equestrian access to trails are greater than ever, but BCHA is meeting them with more benefits for members, more chapters across the country, and an even stronger dedication to you as an American trail rider. Greater membership numbers means more clout and a voice that gets heard. BCHA is determined to continue to increase their membership so YOU can ride YOUR favorite trails for years to come.
America's Best-Kept Secret
About a year ago, Back Country Horsemen of America formed an ad hoc membership committee to find ways to tell people about "America's best-kept secret." In time, standards and methods were formulated, and then most of the responsibilities shifted to the Education Committee. The work includes documents and manuals of best practices for state organizations to follow, some of which are being turned into video, Power Point, and other media; and a monthly conference call of the Membership Chairs of each state organization to share challenges, ideas, and methods of meeting the needs of current and future members.
BCHA has also created a sort of mentorship program to help state organizations effectively handle local and state issues by connecting them with a BCH leader who has successfully dealt with similar challenges in their own area. The mentor assesses the situation and offers insight, advice, and suggestions, including information on national law and policy such as the National Environmental Policy Act.
Who Is BCHA For?
Potential members include a wide variety of people from just about any walk of life. Of course, anyone who loves horses or public lands will want to become a member. Also, trail riders, equestrians involved with other disciplines such as reining or jumping, leaders of equestrian groups, family and friends of current members, juniors, young adults, parents of youth involved with horses, retirees and empty nesters, people concerned about the condition and access to public land, and so much more.
At monthly meetings, group trail rides, educational events, work parties, advocacy events, group meals, and holiday parties, members meet people they might never have come in contact with. BCHA membership, even within the relatively small area that a given chapter covers, represents a variety of skills, talents, interests, and abilities. Yet despite all the differences, members are bound together by their belief that Americans have the right to sojourn across this great land as our ancestors did – on the backs of horses.
Rubbing shoulders with such diverse individuals opens unlimited opportunities to learn from those more experienced, teach your skills to others, and expand your world view. Participating in the tasks of trail work, advocacy, and educating the public affords a satisfaction that cannot be gained any other way. Imagine the pride of riding on trails you have personally maintained, the accomplishment of using your own talent towards a valuable cause, the confidence of learning new skills, the benefits of staying fit, the achievement of giving back despite your busy schedule, and the fulfilled responsibility of staying informed and having a say in what happens with your local public lands.
Even recreationists who aren't horseback riders love having an active Back Country Horsemen of America chapter in their back yard. When trails are cleared and maintained by a hiking group or a mountain bike group, they are not very usable to other types of recreationists due to the narrow parameters of maintenance. Horseback riders have to duck under too many low branches and ATVers find the trail isn't wide enough for them to pass. On the other hand, trails prepared for horses are open and safe for just about every other type of user.
Why YOU Should Become a Member of BCHA
How can BCHA compete with saddle clubs, especially those that do occasional trail work? For short front country trails in areas protected from most severe weather, sporadic maintenance may be all that is required. But our nation currently has an unprecedented backlog of trail work waiting to be accomplished on countless miles of trails near and far. A few weekends a year isn't going to get it done. Back Country Horsemen of America is unlike any other equestrian organization in the nation in that they are committed to getting all those trails open and safe again for all users. They're so committed that they regularly donate their own money, time, tools, talent, and muscle to achieving that goal.
Although many riding groups condone a level of trail etiquette, most don't teach or even practice Leave No Trace principles, which are becoming more and more important as we lose open space to development. The general public is beginning to realize the limitedness of our resources, especially open land, wildlife, and native flora. BCHA actively practices and teaches responsible recreation. They know that making Leave No Trace methods a habit when we recreate helps preserve our precious natural resources for our children and our children's children.
How Back Country Horsemen are Made
BCHA Vice Chairman Darrell Wallace explains how average people who know nothing about trail maintenance become committed trail workers whose efforts keep trails open for all of us. "As we do with all members, we teach them trail safety and best practices for camping with horses and Leave No Trace. We invite them on group rides, which are fun, but the main goal of our group is to keep trails open, and that often requires trail work.
"Saddle club members and the average concerned citizen don't know how to pull a saw or retread a trail, but there are still many ways they can be involved. So we get them involved with the things they can do, such as holding the horses and watching us work. When they get an idea of what it's all about, they graduate to being a 'swamper,' which means pulling the branches away as they're cut from the trunk of the tree and then rolling the short cut-up pieces of trunk off the trail.
"Before they know it, they're working a crosscut saw with an experienced sawyer and then they're asking to take sawyer certification training. Many times, they become passionate about it like the rest of us." As with so many things, learning and doing and familiarity creates genuine care and dedication. Most BCHers can't believe there was a time when trail work wasn't their priority!
Join BCHA Now!
By joining Back Country Horsemen of America, you become part of an advocacy movement for the use of horses on trails. BCHA is unique in their scope, dedication, expertise, and volunteerism toward that important cause.
Even if you cannot be actively involved with a local chapter, your membership dues alone go a long way in perpetuating Back Country Horsemen of America's coast-to-coast mission: in brief, to preserve and enhance the rights of responsible horsemen to use horses and mules on public land.
If you're already a member, Back Country Horsemen of America thanks you for your continued support. They look forward to keeping trails open for horse use in your corner of the country! If you don't have a BCHA chapter near you, get in touch to find out how to create one.
About Back Country Horsemen of America
BCHA is a non-profit corporation made up of state organizations, affiliates, and at-large members. Their efforts have brought about positive changes regarding the use of horses and stock in wilderness and public lands.
If you want to know more about Back Country Horsemen of America or become a member, visit their website: www.bcha.org; call 206-622-8425; or write PO Box 1182 Columbia Falls MT 59912-1182. The future of horse use on public lands is in our hands!
###
You need to add a widget, row, or prebuilt layout before you'll see anything here. 🙂
You need to add a widget, row, or prebuilt layout before you'll see anything here. 🙂