Here is the BCHA Ad placed in the USA Today Special Edition Your National Parks Guide.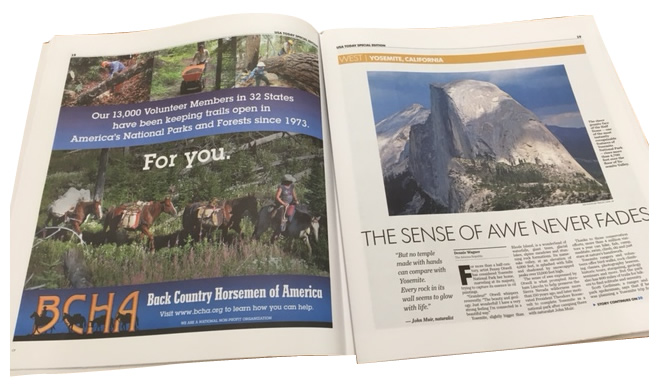 "Spacious skies, amber waves of grain, purple mountain majesties…" These words cause even the most restrained American to choke up. They describe our America, the America we cherish, the America founded on the backs of horses. Back Country Horsemen of America strives every day to protect our heritage of traveling across our treasured canyons, forests, valleys, and peaks by horseback.
BCHA proudly labors alongside the National Park Service, which was formed in 1916 to preserve our nation's wild landscapes for all to enjoy. The two organizations frequently work together on a variety of projects from trail use policies and trail maintenance to bridge construction and ecological restoration. Back Country Horsemen of America congratulates the National Park Service on their Centennial and their many accomplishments during those first 100 years.
A Mutually Beneficial Relationship
Back Country Horsemen of America highly values their strong relationship with the National Park Service. Randy Rasmussen, BCHA Director of Public Lands and Recreation, says, "We're in the midst of a five year Memorandum of Understanding, which is a formal public agreement that solidifies our relationship and encourages National Park Service units and superintendents to partner with Back Country Horsemen chapters throughout the nation.
"That can mean any number of mutually beneficial projects like training, seminars, trail maintenance, constructing and maintaining facilities like horse camps, and even aiding the park with search and rescue.
"Every year Congress gives the National Park Service fewer funds, and they have to make do with less. They benefit from having friends like us with technical know-how in things like Leave No Trace principles, methods of trail building, and safely sawing and removing fallen trees. BCHA helps them on the ground with projects they may not be able to cover with their existing budgets."
Randy gives an example, "About two seasons ago, Back Country Horsemen assisted with an historic restoration in Olympic National Park. The Enchanted Valley Chalet is located in the heart of the wilderness and serves as a shelter for hikers, but it was in the floodplain along an active river that was eroding the banks, endangering the structure. Back Country Horsemen packed in equipment and supplies to support the process of moving the building out of the floodplain and restoring it as an historic resource.
"We've also had a great relationship with Mount Rainier National Park. This park had closed down horse access to most of their trails, but because of the hard work of Back Country Horsemen, it looks like we'll see an increase in the riding opportunities there.
"Bryce National Park actually thanked us for turning out a public response recently to a proposal they had that would significantly change horseback users' experience of that park. We did so in a spirit of partnership, using diplomatic methods, and it changed their mind about what they had proposed."
Randy says the secret is the connections at all levels that form a network that achieves solutions. "It's the personal relationships on the ground between park rangers and local chapters, aided by national agreements and national relationships that come together to amplify the voice of the local chapters."
Avenues like the BCHA website, social media, and the BCHA newsletter are effective ways to get national members involved with issues in local parks. Riders in Florida and Tennessee want to be able to travel across the country and camp with their horses in Yosemite National Park or Olympic National Park. Riders in Utah and Arizona want to be able to experience Shenandoah National Park or Acadia National Park by horseback. Our national parks are destination places for Americans.
An Organization of Service and Cooperation
Over 27 years of federal employment, Rick Potts held several positions with the National Park Service, including Chief of the Conservation and Outdoor Recreation Division, and National Wilderness Training Program Manager at the Arthur Carhart National Wilderness Training Center in Missoula, Montana. An avid horseman, Rick became a member of the Missoula Chapter of Back Country Horsemen of Montana and served briefly as president before relocating to Washington, DC, for his National Park Service work.
"When BCHA was first conceived around that campfire," says Rick, "the founding members decided they would be an organization that focused on service, working with the agencies to help them accomplish what is needed to get done, and education, teaching their own peers how to use pack and saddle stock responsibly.
"They knew it's far better to work with the agencies to find a solution than it is to throw them into court. As a land manager, you'd much rather work with an organization that wants to work with you proactively in search of solutions rather than haul you into court over and over as some organizations are prone to do.
"I was once contacted by the fledgling Virginia/West Virginia BCH group about a perceived loss of opportunity to ride in Shenandoah National Park. We had a meeting and the BCH group asked, 'What can we do for you?' The park superintendent's eyes lit up. She said, 'We have a cabin along the Appalachian Trail that's used as a shelter by through-hikers. It needs a new roof but we have no way to get the materials there because it's in designated wilderness.'
"So the Back Country Horsemen volunteered their horses and mules and packing skills, and packed in all the new roofing materials – long boards, roofing paper, and cedar shakes – to the cabin site. That's an example of how you can turn a conflict into a win-win and it makes it so much easier to discuss conflicts and perceived loss of opportunity. There are many cases in which, if it weren't for BCH actions, horsemen would have lost opportunities but because of their actions, trails were made available for equestrian use."
Back Country Horsemen of America also avoids conflicts by inviting agency officials to be involved with their organization. "BCHA asked me as a ranking National Park Service official to serve as a technical advisor on their national board," says Rick. "I attended board meetings and gave them updates on equestrian issues on the national parks and they would relay issues of concern to me so we could explore them.
"Often we were able to identify potential issues early on and resolve them before they became train wrecks. Sometimes before any users really knew there was an issue, we had figured out a solution. BCHA's willingness to invite the agencies to their national board meetings as technical advisors and liaisons is very healthy in creating two-way communication. After those train wrecks, it takes a long time to pick up the pieces. There's anger, tension, and mistrust, making it so much more difficult to get to a positive outcome."
Doing What Needs To Be Done
"I enjoyed BCHA because of the positive 'how can we help you get it done' attitude they bring to the agencies," Rick says. "Every trail user group has had to minimize their impact on the landscape and Back Country Horsemen were ready to adapt to the changing times. They adopted new technologies, new gear, and new ways of doing things to minimize their footprint. These adaptations, like smaller group sizes, better trained stock, lighter and less gear, weed seed free feed where necessary, and limited duration stays are adaptations that horsemen use because they were developed largely by BCHA.
"If the agencies become more and more restrictive, we have a loss of opportunities, which was not the intent of national parks, especially in wilderness areas. When the Wilderness Act was created, the intent was 'outstanding opportunities for solitude or a primitive and unconfined type of recreation.' That can only work if users are willing to police themselves to protect the resource and educate their peers, which BCHA has been really good at.
"Generally if a trail is open to equestrian use, it's open to other types of use, as well. BCH have been good about sharing trails with other users. They've also been very generous in helping out with projects on other users' trails and even working on trails where equestrian use isn't allowed. That helps us disperse the use and minimize conflicts between user groups."
Protecting America's Unique Culture
It's not surprising that Back Country Horsemen of America and the National Park Service get along so well. They're both committed to protecting and maintaining our country's natural and cultural heritage.
"The horse is the iconic image of the National Park Service," Rick says. "As an agency, in just the passing of two generations, we've already lost much of that identity. When families started to visit the national parks in the 1950s and 60s, the horse mounted ranger would ride into the campground. That struck a whole generation of kids with awe and they wanted to be National Park Rangers. The horse mounted ranger was the greatest recruiting tool the National Park Service ever had.
"The use of pack and saddle stock administratively was part of our inner culture. It wasn't so long ago that if you were a ranger in the National Park Service, you were expected to bring your own saddle. That was the roots and the image of the National Park Service. Back Country Horsemen of America helps us perpetuate that cultural heritage and enables us to pass it along to future generations for them to enjoy and protect."
"We can't overstate the importance of that," says Rick. "It's the iconic image of what the National Park Service is and what National Park Service rangers are. It's not the same today in the 21st century. When the ranger drives by in a squad car with tinted windows and dressed in Kevlar gear, it doesn't send the same message as the horse mounted ranger. In some cases, this is necessary and I don't minimize the risk to our rangers. But that horse mounted ranger will never be replaced in identifying who we are at the heart of our agency."
Back Country Horsemen of America is known for clinics and courses in which they teach packing and responsible equestrian recreation. Rick says, "They've taught literally thousands of people, which has enabled them to enjoy our national parks with pack and saddle stock. BCHA has also trained many Park Service employees in how to use pack and saddle stock administratively, which helps that culture to remain alive within the agency itself."
Randy agrees, "The National Park Service has a mandate to preserve the wilderness character. By using horses and mules with these on-the-ground projects, BCHA is helping them do that. In the recent past, the Park Service has been quick to bring in the helicopters, ATVs, and other equipment for the bulk of the simple jobs, but now with our partnership we're getting them back to their roots of being wilderness stewards and trying to maintain wilderness character with more primitive tools."
A Long-Term Partnership
Back Country Horsemen of America is pleased to call the National Park Service a comrade in the pursuit of preserving our natural and historical heritage. They look forward to many more years of working together on projects large and small to that end. See BCHA's full page advertisement in USA Today's National Park Service Centennial celebration issue.
"Back Country Horsemen of America has a leadership that's visionary and not just reactive to day-to-day happenings but proactive about setting us on a course," Randy says. "Conflicts are few and far between because we've established solid relationships at the local and national level. That's going to help us ensure continued access for horses.
About Back Country Horsemen of America
BCHA is a non-profit corporation made up of state organizations, affiliates, and at-large members. Their efforts have brought about positive changes regarding the use of horses and stock in wilderness and public lands.
If you want to know more about Back Country Horsemen of America or become a member, visit their website: www.bcha.org; call 888-893-5161; or write 342 N. Main Street West Hartford, CT  06117. The future of horse use on public lands is in our hands!