A smile is a powerful tool in the effort to keep stock part of the trail scene! – BCHW Western Washington Long Ears Chapter
This photo is what we need to be working for as we trail riders and packers meet folks on the trail. The smile on the faces of these two unidentified hikers says it all.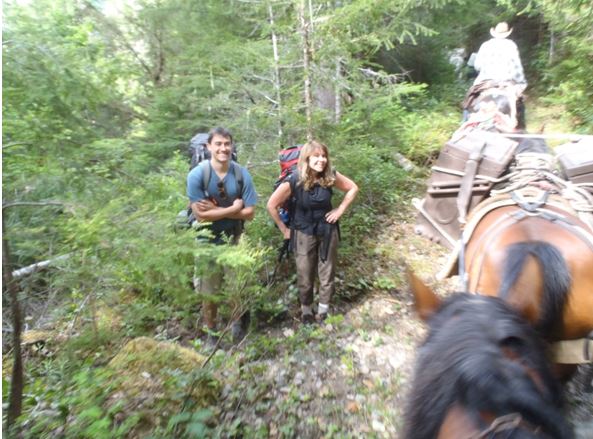 Several years ago I wrote a paper for Hoodsports District Ranger in the Olympic National Park to hand out to hikers in preparation for their meetings with stock on the trails in this district. I also included this information in a chapter in our book "The Packers Guide Book" and it is titled "Meeting hikers on the Trail" this begins on page 179. It is very interesting that once an author writes a piece on a subject his or her growth of knowledge on the subject should not come to a screeching halt! Instead for me it is often a constant reference point to see if I can gather more experience on it. Since the original paper "Just say Howdy" and the book were written Sue and I along with our pack string have had the opportunity to rattle by more hikers then I reasonably can count.
One morning at breakfast we had a discussion how interesting and pleasant the interaction with hikers has been. Sadly, for some stock trail users hikers have been reportedly, been a problem. On the contrary, I have never viewed this as any kind of a problem! In all of my years of packing and trail riding (to date) I have never had a cross word with or from anyone I met on the trail. I wonder, "why me?" I guess that is what I expected from the very beginning a positive meeting instead of a negative one. Nevertheless, being realistic I have developed a plan to avoid a possible unpleasantly negative one.
I believe it is my responsibility to take charge of the scene to guarantee all transpires safely. It all begins when I first see anyone ahead of us. I immediately sing out clearly that we have hikers on the trail. This alerts the pack gang and my helpers to wake up and get prepared for the encounter. Then upon getting within speaking distance, loudly and friendly I say "howdy." Slow down; do not go rushing into a space that is rapidly, becoming crowded. Now is the time for that big smile (show a lot of ivory.) The best way to control the moment with your smile is to truly mean it. These folks are on an outing the same as you (for a safe good time.) The difference is that you are (or should be) more prepared to pass them in a way as to not endanger them or your stock.
OK! Now we are close enough to be able to clearly see and talk to each other. Here I look over the scene is there any danger to the pedestrians? Are the scattered along my route like a covey of quail? If so I ask with a voice of friendly authority to please move over together to the side or location that is going to be safest for them! The rule of thumb that says, "Hikers must move off of the trail downhill,"goes to the devil very fast in the real mountain world. Many times uphill of the trail is a whole lot safer for them! You can never expect anyone to go somewhere they do not feel safe so please do not attempt to send them there. If someone is not off the trail far enough stop and give them sage advice on where to go. Do not hesitate to stop all of your movement if you see any danger to anyone. Note: whenever I need to stop and engage a hiker I always explain why I'm asking them, to respond to my needs and always add it is to insure their safety and I fear that they may get bumped and injured if they do not wish to comply.
Now I about to move on or past them, the packing animals have begun to look them over. Here I again have instructions for them: I ask them to talk to the animals. (Here is a cool tip I use: I ask them to help me! "My last mule is nervous around hikers, his name is Gus. Will you please say good boy Gus to him!" "Thank you so very much and have a wonderful day!") Now I have engaged them to help me with old Gus and they are becoming engaged or invested in my well being. Moments ago we were strangers but now we for a short instant have become a team in the sharing of the trail and interested in everyone's well being!
Even if none of the horses or mules has a problem with hikers they do not know that a bit of a fib here will get them talking on your page. The bonus is that now I have them talking to the animals and proving to them that they are humans even with that pack hiding behind them. (Note: I have found most hikers do not know what to say to stock passing them or feel foolish just jabbering so you must prompt them as I do with "good boy Gus or whoever is the last animal.") I look forward to passing hikers because this kind of engagement makes me feel good and I get better at it with each passing. With these programmed and in control requests during our passing on the trail I have told these hikers that I (mule or horse rider) am mature and caring about their safety and such people they meet in their future can also be trusted.
The key to safe and friendly meetings of hikers on the trail is always the constant friendly smile and a constantly friendly voice. Give it a try. It works.
Ed Haefliger
Coauthor: "The Mountain Canary Company Packers Guide Book" and
"The Mountain Canary Company Trail Skills and More"
www.mtcanaryco.com E: mail mtcanary@msn.com 360-427-4297
Volunteer Packer: Olympic National Park, Olympic National Forest, Washington State Department of Natural Resources
Member: Back Country Horsemen of Washington, Western Washington Long Ears Club