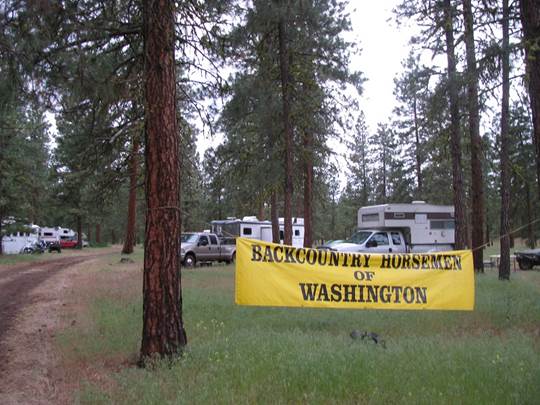 How long does it take to tear down and replace a 1000 foot fence?  Two days – if you have 30 Back Country Horsemen of Washington (BCHW) volunteers, a tractor with a backhoe, two tractors with frontend loaders, two quads with trailers plus every tool imaginable to dig post holes in rocky terrain.
Bar B Q Flats, a pine forest in the Wenas valley, has long been a popular back country stock riding destination and connects to higher country with views of several mountain ranges.  The land managed by the Washington State Department of Natural Resources (DNR) had historically been available to the public.  However, the access road to the recreation area crossed private property, leaving the public with intermittent access on owner preference.  As directed by 2013 legislation, DNR solidified agreements to gain ownership of an access road for future public right of entry.  In March 2015 the state Board of National Resources authorized DNR to proceed with a package of land transactions and infrastructure improvements that would assure permanent public access.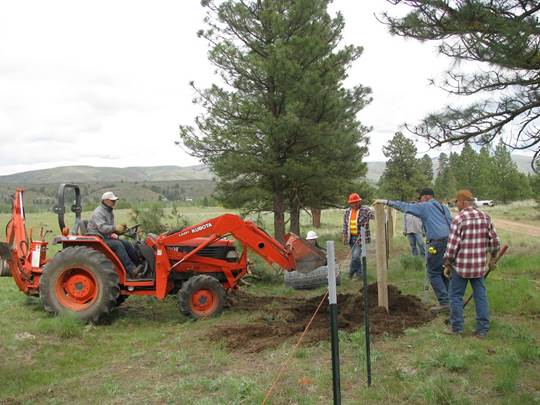 Eighty acres were traded plus DNR purchased another 560 acres, and planned to develop dispersed camping in the flats.  "The people of Washington will enjoy exploring BBQ Flats for generations," said Commissioner of Public Lands Peter Goldmark.  "I appreciate Representative Judy Warnick's (R-Moses Lake) leadership to expand outdoor recreation opportunities in this part of the state, and to help give DNR the resources to achieve it."
The land-swap with private property owners included a provision for an access road to be fenced on both sides to protect private property rights.  Jeff Jones, DNR South East Region Recreation Manager, and Stephanie Margheim, DNR Volunteer Specialist, prearranged work parties for outdoor recreation organizations to start the access road fencing improvements.  During the first work party Jeff and Jody Taylor (BCHW-Wenas Chapter) supervised tearing out the old fence and the new fence construction on one side of the access road.  Volunteers from five BCHW chapters (Wenas, Yakima, Pierce, Lewis, & Tahoma) and independent members put the construction projects ahead of schedule.  Originally it was anticipated that part of the fence could get torn down and cleaned up during the three day work party.  BCHW volunteers showed up with tools and equipment to not only tear out 1500 feet of old fencing but ready to build the fence; 1000 feet of the fence was put in place.  Setting around the potluck table in the evenings the volunteers were obviously proud of their achievement and support of the BCHW mission statement – "to assist government agencies in their maintenance of public lands."
After DNR personnel completed the 1500 foot boundary fence a second BCHW multi-chapter work party was organized to construct an 8000 foot long elk fence on the other side of the 80 foot wide access and property boundary.  Led by Jeff and Jody, volunteers from five BCHW chapters (Wenas, Pierce, Lewis, Tahoma, & Traildusters), independent BCHW members plus local community volunteers started installing the elk fence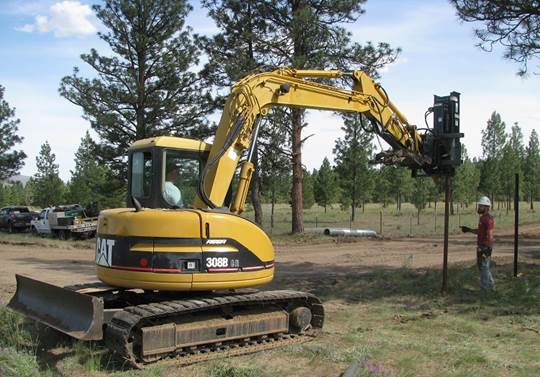 Prior to the work party a private construction company drove 12 foot metal posts 4 feet into the rocky ground.  Once the 800 metal posts were in place Jeff and Jody coordinated the installation of the 8 foot high elk fence.  During the two day work party 35 volunteers installed 1 ½ miles of woven field fence.  After the lower section of the fence was installed on the metal posts a second section of woven field fencing was added atop it to make the 8 foot high wildlife barrier fence.
BCHW – Wenas Chapter arranged a work party on National Trails Day to help DNR complete the 8000 foot elk fence.  On a very hot day, 13 volunteers labored to finish the project which included a wildlife migratory gate.
Improvements to the dispersed camping area include a graveled access road with metal entry gates, an improved loop road in the flats itself and three vault toilets (2 single seat restrooms and 1 double seat restroom).  Recognizing the 1406.5 volunteer hours contributed to this project, DNR planned an appreciation and dedication lunch at the flats for the volunteer workers.  The gathering will be reminiscent of the days when cattlemen gathered in the flats for a barbeque after fall roundup; thus its namesake.  Due to an active fire season for DNR staff this summer the commemoration for the completion of a job well done is rescheduled.
The enhancements to the popular back country riding area took several years of negotiations and a sizable DNR budget allotment.  Once again Bar B Q Flats will be a favorite destination for spring riding and fall hunting opportunities.  As outdoor recreationists it is now our responsibility to maintain the pristine setting in the flats and respect the private property of the neighboring land owners.
See all the photographs at Back Country Horsemen of Washington photo gallery.