Jeanne Newman and Gordon Hirschi re-establishing Home Mountain Trail for BLM Vernal Office in Brown's Park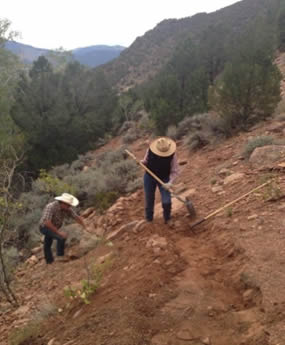 Back Country Horsemen of America protects our right to ride horses on public lands in a wide variety of ways across the country. They believe in putting a priority on the things that really matter, such as making our beautiful landscape accessible to all users and developing partnerships that help us accomplish that. BCH folks know there's value in lending a hand, even on projects that don't directly benefit horse users.
Building Relationships
Sometimes building relationships means pitching in even if you have to leave your horses at home. The Uinta Basin Chapter of Back Country Horsemen of Utah have been looking for ways to get involved with trail work in Dinosaur National Monument. This National Park Service property along the Colorado and Utah border consists of 210,000 acres of river canyons, mountains, and basins that support over a thousand different native species of plants and animals. The Utah side also boasts dinosaur fossils and the world renowned Carnegie Fossil Quarry.
Although horseback riding is not yet allowed in Dinosaur National Monument, the Uinta Basin Chapter BCH contacted the land managers to offer their assistance with trail maintenance. Because of Back Country Horsemen of America's reputation, they were told a face-to-face meeting was not necessary and were asked to help with work on a hiking trail. Uinta Chapter Back Country Horsemen members met with hikers, youth volunteers, and NPS em¬ployees to build rock cairns and a rock stair step on the busy Sound of Silence hiking trail.
Uinta Basin Chapter of Back Country Horsemen of Utah Receives Honors for their work in 2014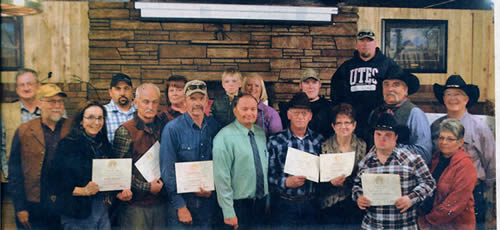 After a long work day, BCH members discussed with the land managers the possibility of a horse trail in Dinosaur National Monument and were invited to meet formally for further discussion. Lending a hand where it's needed, regardless of personal interests, builds a rapport that benefits everyone. The Uinta Basin Chapter of Back Country Horsemen of Utah will continue nurturing this relationship, making a way for us to enjoy this stunning landscape by horseback.
Preserving History
Back Country Horsemen of America values our country's past and welcomes opportunities to preserve it. Managers of the Salmon-Challis National Forest recently began restoration of the Norton Ridge Lookout in the Frank Church River of No Return Wilderness. This abandoned cabin sits on an open mountaintop at nearly 8500 feet elevation. Constructed by the Civilian Conservation Corps in 1933 to house fire spotters, it is eligible to be listed on the National Register of Historic Places.
Kenneth Bentley and Mark Karren working on Home Mountain Trail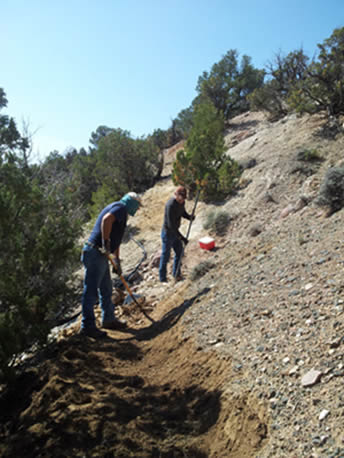 The Treasure Valley Chapter of Back Country Horsemen of Idaho eagerly participated in the project which was carried out under the super¬vision of Archaeologist John Rose from the Challis office of the Salmon-Challis National Forest. Their purpose was to begin the restoration work necessary to maintain the cabin's historical value and for the use and enjoyment of the structure by the US Forest Service and the public.
Treasure Valley Chapter BCH's first task was to pack in wood shingles to be stored inside the cabin for re-roof¬ing at a future date. They trucked their horses and equipment seven hours to the trailhead at Meyer's Cove. From there, they rode and led their pack animals 14 miles along Camas Creek to the spot where it flows into the Middle Fork of the Salmon River. The next day the group rode 11 miles upstream along the Middle Fork River to the Sim¬plot Ranch and airstrip, where the shingles were delivered by plane
At this point, it was learned that the 11 mile trail from the airstrip to the cabin had not been cleared. Most of the TVBCH group spent four days clearing the trail and packing the shingles up to the cabin. It took another two days to pack out to the trailhead and return home. Despite the long trip and various challenges, the Treasure Valley Chapter of Back Country Horsemen enjoyed taking part in an important historic project.
About Back Country Horsemen of America
BCHA is a non-profit corporation made up of state organizations, affiliates, and at-large members. Their efforts have brought about positive changes regarding the use of horses and stock in wilderness and public lands.
If you want to know more about Back Country Horsemen of America or become a member, visit their website: www.bcha.org; call 888-893-5161; or write PO Box 1367, Graham, WA 98338-1367. The future of horse use on public lands is in our hands!