Back Country Horsemen of California Takes the Lead in Leave No Trace Stock Use Education
As they preserve our right to ride horses on public lands, Back Country Horsemen of America also embrace and promote responsible recreation. The seven Leave No Trace principles are practical guidelines to help all users make better choices to minimize the impact of their presence on untouched lands while inspiring respect for the wilderness.
Recently Back Country Horsemen of California, one of the founding member states of BCHA, was awarded the contract to provide the only Leave No Trace Stock Master Educator course in the country. BCHC earned this remarkable opportunity through hard work, sustained effort in promoting gentle recreation, and a dedication to excellence.
A History of Growth
The Bowerman Barn is a historic USFS structure and makes for a nice backdrop, but we were really learning the history of the place that day from USFS and local 5th generation packer, Ken Graves
Leave No Trace (LNT) was created by the US Forest Service in the 1960's, when recreation on public lands increased significantly, with a corresponding level of damage to those wild places. Then in the early 1990s, the Forest Service worked with the National Outdoor Leadership School to develop hands-on, science-based minimum impact education for non-motorized recreational activities.
In 1994, the Leave No Trace Center for Outdoor Ethics was incorporated as a 501(c)(3) nonprofit organization to develop and expand Leave No Trace training and educational resources, spread the general program components, and engage a diverse range of partners. In time, the basic LNT principles were specialized to address the specific issues inherent in different recreational disciplines, such as hiking, mountain biking, canoeing, and packing with stock (horses and mules).
Later, Ninemile Wildlands Training Center in Montana began giving the LNT Stock Master Educator course, typically five days long and designed for people who are actively teaching others back country skills or providing recreation information to the public. When legendary instructors Smoke Elser and Bob Holverson retired, the Leave No Trace Center for Outdoor Ethics began looking for someone to take the reins.
Capable and Competent
Students were heavy in the details of LNT Master Class Coursework at the time.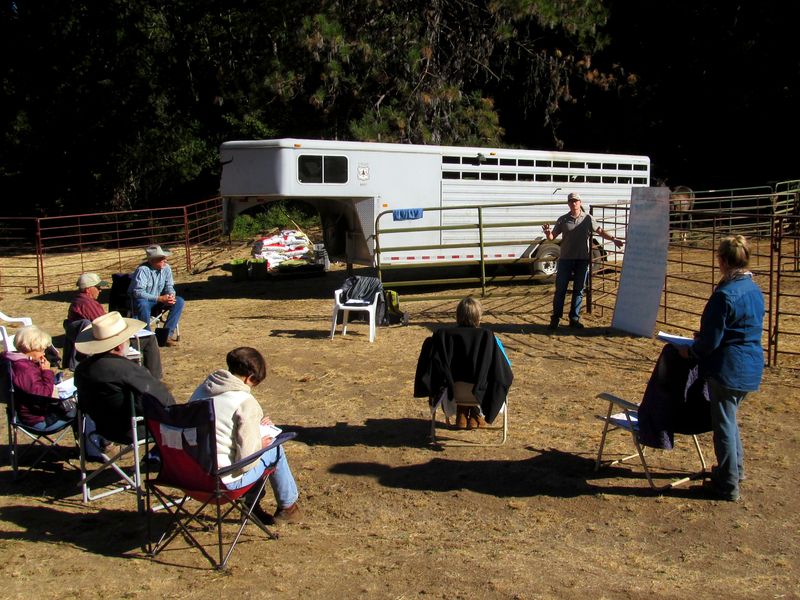 Back Country Horsemen of California is uniquely qualified to take on this role. In 1992, they created an education program called Gentle Use to encourage its membership to minimize their impact on the land they enjoyed. Four years later, Barb Miranda, a college graduate recently named Wilderness Education Project Director of the Sequoia National Forest and Yosemite National Park, contacted BCHC looking for a partner in promoting LNT principles to equestrians. LNT replaced Gentle Use and Wilderness Riders was formed.
This group of BCHC members teach a course similar to the LNT Stock Master Educator course to their members, who in turn teach others how to apply the LNT principles. They also teach non-members by request and are in demand at many venues such as Cabella's in Reno, Nevada, where a recent Leave No Trace Stock Awareness workshop drew 35 people. The Wilderness Riders are not paid; their donation of time and materials is valued at $200,000 per year.
A Prestigious Honor
Back Country Horsemen of California has long had their eye on providing the LNT Stock Master Educator course, and when Dan Horn became VP of Education several years ago, he began seriously pursuing that goal with strong membership support; fifteen of their current members are now LNT Stock Master Educators, more than any other Back Country Horsemen of America state organization.
Lastly is our graduation and inspiration finale and the trinity Alps Wilderness.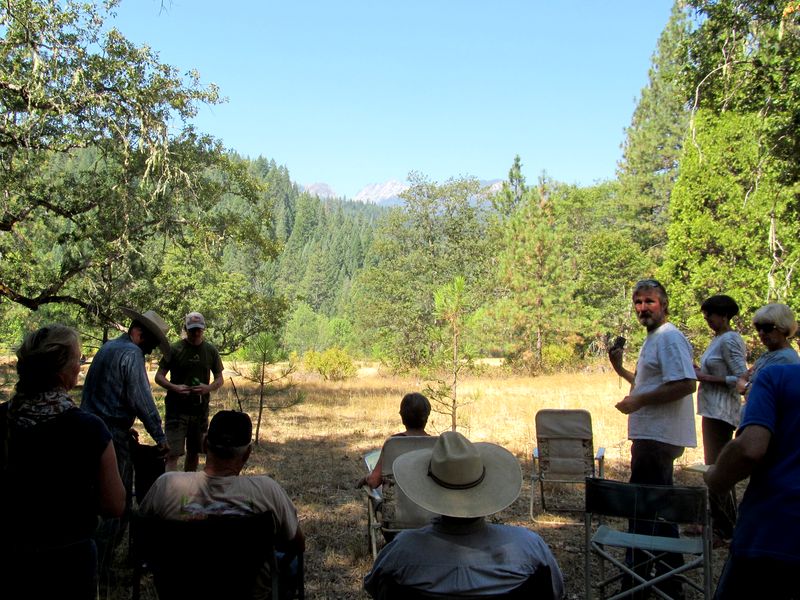 The Center for Outdoor Ethics gave BCHC a five year contract, the first time in the history of the program that a nonprofit organization was trusted with the responsibility. Their reputation already established, BCHC has received requests for their course from a variety of Back Country Horsemen organizations, including Arizona, Nevada, Idaho, and even from clear across the country in Maine. Logistics limit them to teaching in California for now, but they hope to expand their reach in the coming years.
The Class
Back Country Horsemen of California's first Leave No Trace Stock Master Educator course will be given June 8 through 12, 2015, in the Shasta-Trinity National Forest at Bowerman Barn in Weaverville. It will be based on the same model as was used at Ninemile but in a camp classroom environment.
The masters courses for some disciplines can cost over $1000 per participant. In their effort to make this important knowledge available to many, BCHC wants to keep the price of their course as low as possible. An all-volunteer staff allows them to offer the course for around $500, which includes lodging, meals, materials, and instruction from educated horsemen steeped in back country experience. To learn more about this exciting opportunity, contact Back Country Horsemen of California through their website www.bchcalifornia.org .
About Back Country Horsemen of America
BCHA is a non-profit corporation made up of state organizations, affiliates, and at-large members. Their efforts have brought about positive changes regarding the use of horses and stock in wilderness and public lands.
If you want to know more about Back Country Horsemen of America or become a member, visit their website: www.backcountryhorse.com; call 888-893-5161; or write PO Box 1367, Graham, WA 98338-1367. The future of horse use on public lands is in our hands!
Many thanks to Peter Kriger for providing the photos.