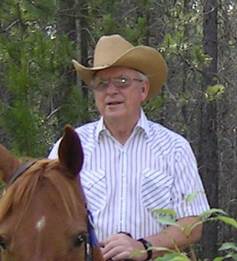 We are deeply saddened that one of our BCHA founders, Ken Ausk from Columbia Falls, Montana passed away Sunday evening surrounded by his family.  Ken was feeling well Saturday taking care of his horses and watching Montana football on TV. Later that evening, Ken suffered a stroke.  Ken was 80 years old and married to his sweetheart Phyllis.
He was a wonderful husband, father, friend, and horseman and was deeply focused on preserving the right and privilege of horse use on public lands.  In 1973, Ken, three others and their wives started the first Back Country Horsemen chapter in the Flathead Valley of Montana.  That chapter grew to over 174 chapters in 29 states with 14,000 members.  I can say with great certainty that Ken thought about the Back Country Horsemen every day of those 41 years.  Even as late as this past Thursday and Friday, I received emails from Ken responding to questions on guiding BCHA on its mission into the future.  Ken Ausk and the founders had a great dream; it is our responsibility to carry on that dream.
Ken's funeral is tentatively set for 11 am Saturday, the 13th, at St Richards Catholic Church in Columbia Falls, Montana.
Jim McGarvey
Chairman
Back Country Horsemen of America