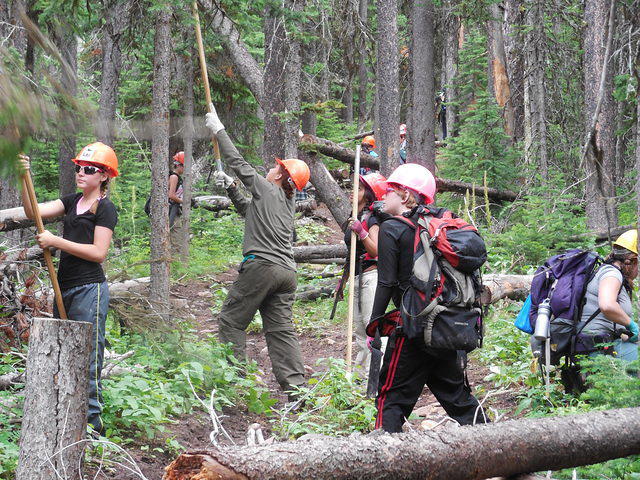 The tradition of traveling long distance through wild lands by horseback is older than our country itself. Back Country Horsemen of America cherishes that heritage and protects our right to carry on that legacy. The participation of younger folks who hold the same passion ensures that the tradition will thrive long into our country's future. Back Country Horsemen of America has always put a priority on younger folks, and the Flathead Chapter of Back Country Horsemen of Montana took that idea and ran with it.
Keeping the Tradition Alive
For a number of years, the Flathead Chapter has sought to attract and retain younger generations of members. The general membership, with an average age of about 55, held a wealth of hard-earned knowledge, experience, and know-how, but very few younger folks to pass it on to. Recognizing the value of maintaining the tradition of traveling through America's landscape with saddle and pack stock, and all the skills that go along with that adventure, the Flathead Chapter started reaching out to youth and younger adults.
Life Skills
Five years ago, chapter members Andy Breland and Chuck Allen started an annual packing clinic for the vocational-agricultural students of the Kalispell Public Schools. They learn about the basics of arranging a load on a pack horse or mule, how to manty (wrap a load in canvas), how to fit a pack saddle, different ways to tie on a load, gen­eral horse handling safety, and Leave No Trace basics.
Typically, between 30 and 35 students participate in this outstanding program each year. Past students have carried their newfound proficiency into their chosen careers, such as work with the US Forest Service; membership in a hotshot crew of elite firefighters specially trained in wildfire suppression; treating animals as a veterinary technician; and as wranglers for a back country outfitter.
Girl Power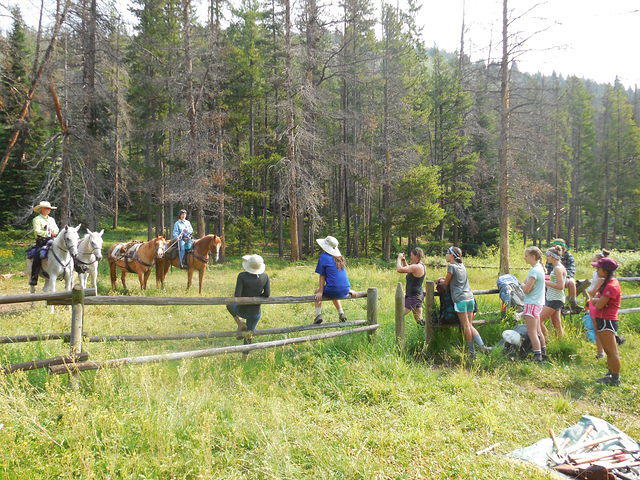 For the past six years, Andy and Chuck have been teaching for Be­coming an Outdoor Woman, created by the University of Wisconsin with workshops taking place in most states. This non-profit, educational program offers hands-on workshops to women 18 and older in outdoor recreation such as hunting, fishing, archery, rifle shooting, and camping. Approximately 30 women participate in Andy's and Chuck's packing clinic, Leave No Trace workshop, and outdoor cooking segment.
In Demand
The Flathead Chapter of Back Country Horsemen of Montana also started a program with the local 4-H group. Back Country Horseman Alden Tot­ten became a certified 4-H leader so he could conduct a packing clinic at the Flathead Valley 4-H camp. Fifteen young 4-Hers were excited to learn about packing and the work BCHA does for the US Forest Service.
With those popular programs in place, word got around. The nearby Family Life Church asked chapter member Rick A. Mathies to give a packing dem­onstration at their first Kids Camp. Children learned about lots of activities including horseback riding, horse training, camping, swim­ming, and packing. Rick showed about 15 kids how to fit a pack saddle, how to manty, and how to tie on a load. Then each child mantied up a bar of soap with a miniature manty and string, a take-home memento of their experience.
Creating Lasting Relationships
These successful ventures brought in new members eager to learn even more about traveling through our wild lands by horseback. Veteran members invited the fresh folks to go with them on projects, sharing their knowledge one on one and building their confidence for their first packing trips.
The chapter also planned fun activities to help establish ties between the various generations. They kicked off the new year with a chapter bonfire party, then organized the annual Meadow Creek trail clearing and cleanup, which includes a campout. Members' families, including kids and grandkids, were welcomed and put to work on appropriate tasks.
When the US Forest Service Swan Lake Ranger District need­ed help returning Owl Creek Trailhead and Packer Camp to its original purpose as a packers' trailhead, the Flathead Chapter used the opportunity as packing training for new members. Most of the 55 members who participated had joined the chapter recently. For many, this was their first packing trip.
Fostering a Love for the Back Country
Back Country Horsemen of America encourages members and all horsemen to find ways to introduce youth and young adults to the back country. When we build the public's awareness and understanding of our wilderness areas, and help them to experience what got us hooked on enjoying the landscape by horseback, they also will see the need to protect our wilderness lands and keep trails open for horse use. As this generation passes, the next one will take the reins and preserve our right to ride horses on public lands for the generation that comes after them.
About Back Country Horsemen of America
BCHA is a non-profit corporation made up of state organizations, affiliates, and at-large members. Their efforts have brought about positive changes regarding the use of horses and stock in wilderness and public lands.
If you want to know more about Back Country Horsemen of America or become a member, visit their website: www.backcountryhorse.com; call 888-893-5161; or write PO Box 1367, Graham, WA 98338-1367. The future of horse use on public lands is in our hands!