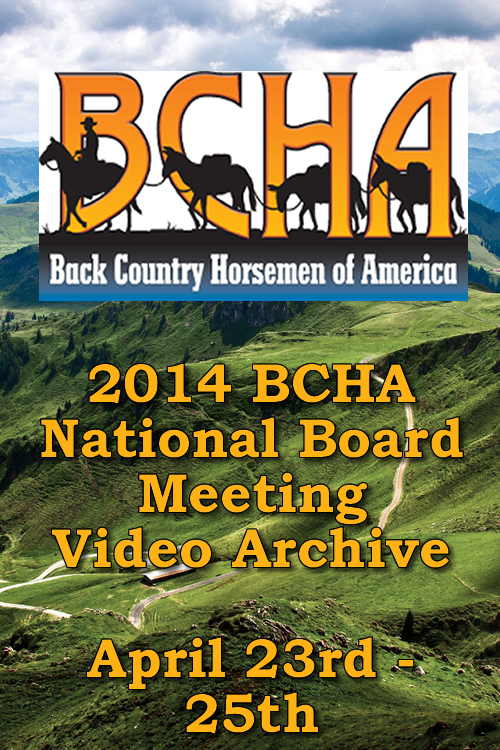 The first time ever Back Country Horsemen of America broadcast live the National Board Meeting along with Announcing the "Keep Trails Open For You" Campaign was a resounding success. If you missed the April 23rd through 26th live broadcast or would like to review parts again, it is available on line to view anytime.
Click here to View Saved Video Broadcast
On Line Attendees Experience was Interactive – Almost Like Being There!
On line attendees were able to experience the BCHA National Board Meeting Live from their homes for the first time and were able to ask questions real time and offer immediate feedback during the live event.
The audio visual crew was outstanding in keeping the live feed up and the interaction with on line attendees going, some reported it was almost like being there!
It was wonderful being able to watch the meeting when we couldn't attend. I think that is so valuable as an educational tool as well for members who have never attended – Betty Applebaker – HDTR BCHO.
A special thanks to the audio visual crew and our BCHA Chairman for making this live streaming event possible.
Schedule as it was Broadcast Live Over the 3 Days
Wednesday, April 23 All Times Eastern Standard Time
8:30 am – 10:15 – BCHA NBM Opening; Speaker Joe Meade Director, USFS for Recreation, Heritage and Volunteer Resources
1:00 pm – 2:45 pm – Boardsmanship; Chairman's Report; Resolutions
3:15 pm – 5:00 pm – Speaker Amos Tuck Program Coordinator, Coosa River Basin Initiative
Thursday, April 24, Public Lands Day All Times Eastern Standard Time
8:00 am – 9:15 am – "Opportunities to Engage Public Lands Stewards – Working Effectively with Youth"
9:30 am – 11:45 am – Solutions: USFS Trail Maintenance Backlog – Panel Discussion
12:45 pm – 1:30 pm – National Park Service: A Trend Toward Limiting Stock Use; Joining via Skype Bob Ratcliffe, NPS Chief, Conservation and Outdoor Recreation Program
1:45 pm – 3:00 pm – Issues from States
Friday, April 25 All Times Eastern Standard Time
8:00 am – 9:45 am – Movie "Untrammeled"; Strategic Plan
1:00 pm – 2:30 pm – Nominations; Elections of Officers and EC Members; BCHA Foundation Report
3:00 pm – 5:00 pm – Election Results; Roll Out of Initiatives
7:00 pm – 9:00 pm – ONLINE CROWD FUNDING START
Saturday, April 26 All Times Eastern Standard Time
8:00 am – 9:40 am – Committee Reports
10:15 am – 12:00 noon – Committee Actions; Resolution Reports; Executive Committee Actions
1:00 pm – 3:00 pm – Discussion of 2015 and 2016 NBM's; Conclusion of NBM