Back Country Horsemen of America strives to preserve our heritage of traveling by horseback across our nation's stunning landscape. When this generation has passed, today's youth will take up the reins of that objective. BCHA recognizes how important it is to teach young people how to enjoy the land while also caring for it. They take every opportunity to include children and young adults in their projects and activities.
"Scouting" Out the Job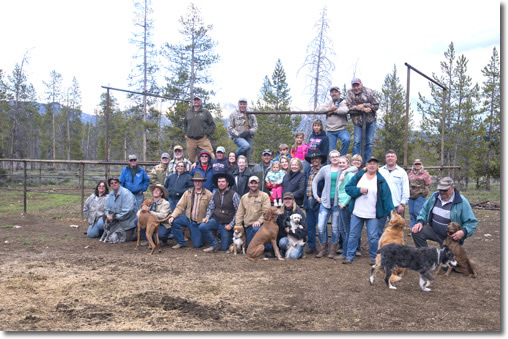 In late 2012, the Boise Chapter of Back Country Horsemen of Idaho was looking for a new way to share their hard-earned trail clearing skills with others. They contacted the leaders of local Boy Scout Troop #82, who felt a trail work project would be an excellent way to finish off their annual High Adventure trip to the Sawtooth National Recreation Area in central Idaho.
In early June 2013, two BCHI members visited the work site: the Zumwalt Trail. A forest fire had burned the region in 2000 and much of the soil in the Zumwalt Basin was still bare. Charred dead trees fell over frequently. With an expert eye, the two Back Country Horsemen found the best access points and assessed the time, labor, and tools needed. The trail had suffered minimal erosion and all the creek crossings were passable, so brush and deadfall clearing was the job description.
Getting it Done
In mid-July, Boy Scout Troop #82 and BCHI members met at a nearby campsite on Banner Creek Summit, in an expansive meadow with an historic Range Riders log bunk house. After a safety meeting, the group divided into two eight-person work crews. Other BCHI members maintained camp, prepared meals, and coordinated between the two trail crews.
By the end of the day (nine hours of heavy trail work), they had re-established a 6 to 8 foot wide clearance from the trailhead to Zumwalt Lake. While some took a dip in the lake to cool off, the warm weather had caused several fires to flare up to the west of the job site, turning the sky a hazy brown.
Day two on the project dawned crisp and cool. BCHI members put their chainsaws to work. Cutting and clearing burned logs that had fallen across the trail left them covered in soot. The upper section of trail was blocked by four 36-inch-diameter Douglas fir deadfalls. By that time, the chainsaw blades had dulled so they returned another day to finish that area.
Pay it Forward
One of the joys of acquiring experience and skill is the opportunity to pass that knowledge on to others. These Back Country Horsemen of Idaho taught the young men valuable skills while inspiring in them a love and respect for our country's wild places. The Boy Scouts enjoyed learning about trail clearing and the proper use of equipment, and their leaders expressed interest in future partnerships.
This venture received financial support from the Back Country Horsemen Education Foundation, which awards grants for trail projects that support the mission of Back Country Horsemen of America.
About Back Country Horsemen of America
BCHA is a non-profit corporation made up of state organizations, affiliates, and at-large members. Their efforts have brought about positive changes regarding the use of horses and stock in wilderness and public lands.
If you want to know more about Back Country Horsemen of America or become a member, visit their website: www.backcountryhorse.com; call 888-893-5161; or write PO Box 1367, Graham, WA 98338-1367. The future of horse use on public lands is in our hands!
###