Join the BCHA $5 A Month Club!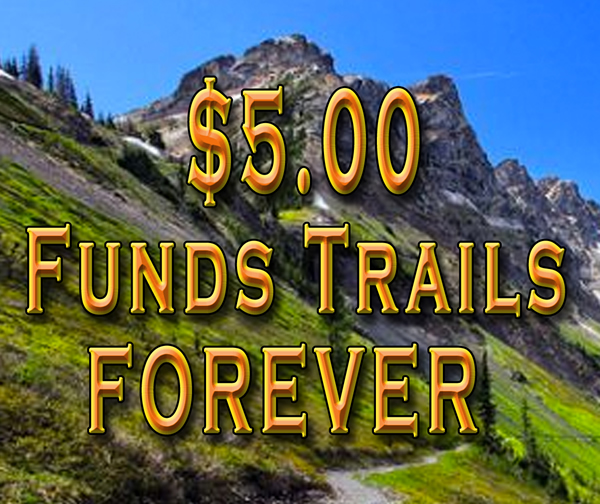 If trails are your passion and you'd like to see them kept open into the future through BCHA's many efforts, then please join the BCHA $5 A Month Club.
The $5 A Month Club is a grassroots support network. Members of this club pledge to donate $5 per month to help BCHA grow and prosper. All funds received go to the TRAILS FOREVER FUND, which is used to expand BCHA's resources and programs.
$5.00 is less than most people pay for lunch at their favorite fast food restaurant. Some may even pay that amount for a fancy coffee, or a banana split. Becoming a sustainable supporter of BCHA through the $5 A Month Club is a small way to help your trails.
ALL DONATIONS FOR THE $5 A MONTH CLUB ARE TAX DEDUCTIBLE.
SIGN ME UP
For a printable Club donation form, CLICK HERE.
Frequently Asked Questions
Click on the questions below to view/hide answer.
BCHA is a grassroots network. Our members are on the ground doing the hours and hours of work needed to keep trails open. At the same time, BCHA national staff and volunteers work with the federal and state agencies at the highest level. BCHA affects laws and policies in Washington, networks chapters together in common problem solving, and develops resources and education for us all. It takes continued funding to accomplish all of this and to grow even more.
All monthly donations are charged to your credit card on a monthly basis.
As soon as you use the donation form to the right (online) –OR- send a printable donation form to the BCHA office, you are signed up for the Club.
Your donation will be charged immediately if you sign up online. It will be charged within one business week if you mail in a printed form. The charge will repeat each month.
You will receive confirmation of the first charge, to insure that all information is correct. Your credit card bill will be your record of on-going monthly charges. At the start of a new year, you will get a tax receipt for all donations made in the prior calendar year.
You may sign up online again with a second donation amount which will be charged IN ADDITION to your first one. Or you may call the office, cancel your first donation and sign up for the new amount.
We hope you don't! But if you need to, email or call the BCHA office at info@bcha.org or (888) 893-5161 with your instructions.
When making Credit Card donation online you will be required to enter your complete credit card information. For security reasons you must enter the credit card number, expiration date, cvs code, full name on the card, and the complete billing address. If any of these do not match, your bank will reject the credit card purchase. I you are having a problem making a payment please call 1-(888) 893-5161 and say you are having a problem making an online payment.
If at any time you wish to cancel future payments you should contact Back Country Horsemen of America by emailing ExecSecretary@bcha.org or calling (888) 893-5161.