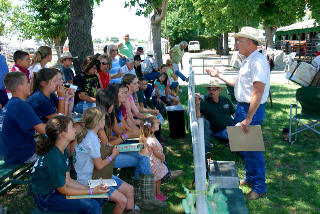 The Back Country Horsemen Education Foundation of America directors are pleased to announce that funds are available for 2018 grant requests. These funds are from individual donations made directly to the Foundation; funds from auctions and raffle of donated items (including Peg Greiwe's popular quilts) at the BCHA National Board Meeting and 30% of the donations made to the BCHA Trails Forever Fund.
Grants are available to BCH chapters and organizations for trail head and trail construction and/or maintenance, educational events and youth programs. Partnerships with public land agencies, youth groups, and equestrian trail advocacy organizations are encouraged. Grant requests can be funded up to $1000 each and by special request of a donor there are three $1000 grants available for projects east of the Mississippi River.
More information on the BCH Education Foundation can be found on the web site www.bcha.org and click on "Education". The grant request form is available on that site and all applications can be sent to grantrequest@bcha.org or a request form can be mailed to PO Box 385, Graham Washington 98338-0385. All applications are due by March 15, 2018 with notification of funded applications by end of April. Questions about the application or the Foundation can be directed to bchfndn@RainierConnect.com or mfilkins@bak.rr.com.
All funded requests are required to send a final report of completion to the Foundation as well as submission of an article and photographs to the BCHA National Newsletter. BCH Foundation directors are Mylon Filkins DVM , Becky Hope, Joanne Mitchell, Michael Murphy, Karen Saner and Executive Secretary Peg Greiwe.