The 2017 BCHA convention was held in Great Falls, Montana this year on April 20th, 21st and 22nd.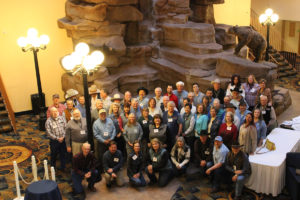 Prior to this year's convention, on Tuesday April 18th and 19th, there was an offering for BCHA members to obtain chain saw certification at the B bucking & limbing and C bucking & limbing levels. Twelve BCHA members certified, ten @ the B bucking & limbing and two C level bucking & limbing
On April 20th the BCHA conducted its regular business with Chairman Don Saner presiding. Reports were given by Jim McGarvey (Exec. Dir), Randy Rasmussen (public lands), Erica Fearn (headquarters report), Cindy McGarvey (Country store) and Karen Saner (BCH foundation). Darrell Wallace updated us on the new business plan. Vice Chair. Freddy Dunn introduced the proposed budget for 2017. John Aliberti reviewed basics on using the Your Membership side of the Webb site.
On Thursday Evening members were bused to the Charlie Russell Museum where they had the opportunity to observe Russell art work from the early days of the west. Leaving the museum the bus stopped at the second event for the night the Sip & Dip Lounge known for the swimming mermaids in the aquarium.
On April 21st Randy Rasmussen conducted the Public Lands Workshop. This year's theme was "Celebrating our Partners, Our Success." We heard from Forest Service officials Leanne Martin (Regional Forester) Glenn Casamassa (USFS Deputy Chief) Jaime Schmidt (USFS National Trail Program Manager) and Joni Packard (USFS Region 1 Volunteer Coordinator). Other partners speaking were Land Tawney (Exec. Dir. Back Country Hunters and Anglers) Paul Spitler (The Wilderness Society)Ben Pendergrass (American Horse Council)Lee Gault(Montana Conservation Corps) We also learned the details of how three BCHA states recently plotted a path toward success; from proactive campaigns to identify horseback riding opportunities on public lands, to disrupting proposals for the sale or transfer of federal public lands. Presenting were Sherry Copeland (Missouri) Barry Reiswig (Wyoming) and Jim Allen (South Dakota). The purpose of the Public Lands Workshop was to offer BCHA National Board members practical lessons that might be applied at home.
On April 22nd the business meeting of BCHA continued with reports from the various BCHA Committees. A round table discussion was held with topics of concern for States (membership, leadership & organization, partnerships, education, and programs)
Elections were held with the following results;
Freddy Dunn – Chairman
Darrell Wallace – Vice Chair
Sherry Copeland – Treasure
Yvette Rollins – Dir. Exec. Committee
Rebecca Krueger – Non Dir. Exec. Committee
The annual banquet was held Saturday evening along with the Passing of the Gavel, Awards, and the live auction. These are notes from the 2017 Convention. More detailed minutes will be posted when approved.