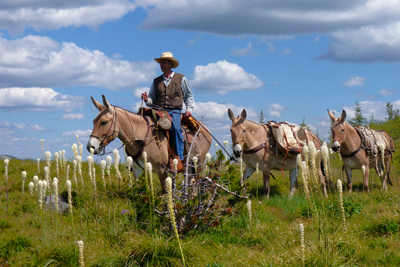 The following news article appeared in InsideNPS on September 14th, 2015, an online newsletter for employees of the National Park Service.
---
Have you considered whether a local chapter of Back Country Horsemen of America might help with your unit's maintenance and restoration needs? The NPS maintains a five-year general agreement with Back Country Horsemen of America (BCHA), signed by Director Jarvis in August, 2014. The agreement provides a framework for cooperation wherein BCHA units can work with local park units on mutually-beneficial projects, including training seminars, living history events, ecological restoration activities, Leave No Trace™ equine education programs, and service projects including trail and horse camp maintenance.
BCHA is a national non-profit organization. It maintains over 180 active chapters located throughout 30 states. Use their chapter locator tool to find a chapter near you.
BCHA volunteers have been assisting federal and state land management agencies since 1973 to perpetuate the common sense use and enjoyment of horses in America's back country and Wilderness areas. They coordinate with conservation corps, youth and veterans groups. BCHA strives to educate, encourage, and solicit active participation in the sustainable use of the back country resource by the general public and horsemen and horsewomen commensurate with our nation's heritage.
BCHA chapters work alongside national and regional partners like the Appalachian Trail Conservancy, Pacific Crest Trail Association, and Continental Divide Trail Coalition. Hike-in crews can carry-in tools and supplies only so far. While BCHA provides the muscle and "horse power" to keep backcountry segments of the Appalachian (GRSM), Pacific Crest and Continental Divide National Scenic Trails open and enjoyable to the public. BCHA is a long-time supporting member of the Partnership for the National Trail System (PNTS) and advocates each year with partners American Hiking Society and The Wilderness Society for NPS- and trails-related appropriations during the annual "Hike the Hill" event.
Many BCHA chapters include certified crew bosses and certified sawyers (both crosscut and chain saw), while other chapters can provide enthusiastic volunteers for light trail maintenance or for packing in supplies for work parties deep in the backcountry or Wilderness. For example, the MACA superintendent last year entered into an agreement with BCH Kentucky to foster collaboration regarding maintenance of the park's backcountry trail system. OLYM relies heavily on BCH Washington crews to keep trails open in park Wilderness, with BCH volunteers providing an in-kind value in excess of $50,000 in 2013 alone. In addition, the Buffalo River BCH teamed with BUFF staff to develop a long-term collaborative relationship for trail and river stewardship, education and search and rescue activities.
BCHA is excited about an emerging partnership between SEKI and BCH California's High Sierra Unit to restore historic horse camps and assist with Wilderness trail maintenance. Back Country Horsemen are among the dwindling practitioners of wilderness tradition in their use of primitive tools to maintain trails and by their primitive mode of travel—a mode that was extolled and favored by wilderness champions that include Aldo Leopold, Teddy Roosevelt and Howard Zahniser. BCHA's use of packstock represents an important tool for land managers in their efforts to maintain and restore wilderness character.
For 42 years, BCHA has worked quietly to keep trails open for hikers, climbers, backpackers, bird-watchers, horse and mule stock users, and other outdoor enthusiasts. BCHA volunteers documented in-kind contributions exceeding $14.4 million for various projects throughout the nation during the past 20 years. As such, they represent one of America's "best kept secrets" in wilderness stewardship. For more information, go to www.bcha.org or contact Randy Rasmussen, BCHA Advisor for Public Lands & Recreation, WildernessAdvisor@bcha.org.