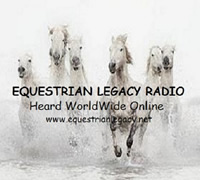 The Radio Programs are interviewed by Equestrian Legacy Radio that discusses current BCHA events. They have been edited to include only the interview with the show's host Gary Holt and BCHA Members. See below for a description of each program and for the web link to the full versions of the radio program segment on blogtalkradio.com.
Past Broadcasts with BCHA
On Thursday June 25th Noon CST on Equestrian Legacy Radio
Host Gary Holt and cohost Bobbi Jean Bell welcome Jim McGarvey Past National Chairman of Back Country Horsemen of America joins us on this week's SADDLE UP AMERICA!
BCHA's Director for Public Lands & Recreation, Randy Rasmussen, joins former BCHA Chairman Jim McGarvey to discuss key public lands issues and opportunities including the Great American Outdoors Act, the benefits from BCHA's success in moving Congress to pass the 2016 National Forest System Trails Stewardship Act, and the advent of public controversy regarding the use of electric motorized bicycles on shared-use trails. The BCHA interview begins at minute 1:04.