BCH of Kentucky member Roy Cornett provides his perspective of the 2015 Education Equine Packing Scholarship Award and Pack Trip into the Bob Marshal Wilderness.
Call to the Wilderness
In late April of 2015 I was attending the National Back Country Horsemen of America annual conference as a national director from KY. This conference was in Sacramento, CA. We were discussing ways to encourage youth to get involved in our organization along with what we do as an organization (help maintain continued equine access onto public lands).
One of the projects that we decided to do involved sponsoring scholarships to youth (18-25) exposing them to a class on wilderness packing with stock (horses and mules). Mack and Connie Long of Bob Marshall Wilderness Outfitters (http://www.bobmarshallwildernessoutfitters.com) volunteered to provide a spot on one of their planned packing classes in the Bob Marshall Wilderness in June 2015. The National BCHA group went a step further and sponsored travel expenses for the youth to get to the trail head destination (its not cheap to fly into a small town such as Missoula). There were about 30 applications nationally from lots of very qualified folks and a young man named Colby from CA was awarded the opportunity.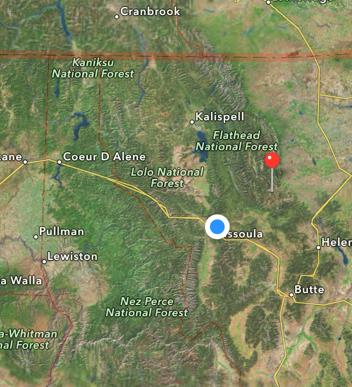 After all of this transpired, the Longs approached me as a member of the Executive Committee of BCHA to attend as well. After thinking about it for a few days (I am still working for a living) I accepted the invitation and was excited about the prospects.
I flew from KY to Missoula on June 22. Upon arrival after checking into the hotel I walked (it was 100 degrees)to the Rocky Mtn Elk visitors center and got a good history of the elk repopulation throughout the U.S. along with some other wildlife data in the west. It was interesting to note that KY is one of the success stories in the US in getting elk successfully repopulated in a serious way.
Missoula, MT has about 85,000 people along with the university of about 11,000 students. It is an interesting town with residents that genuinely
appreciate the outdoors.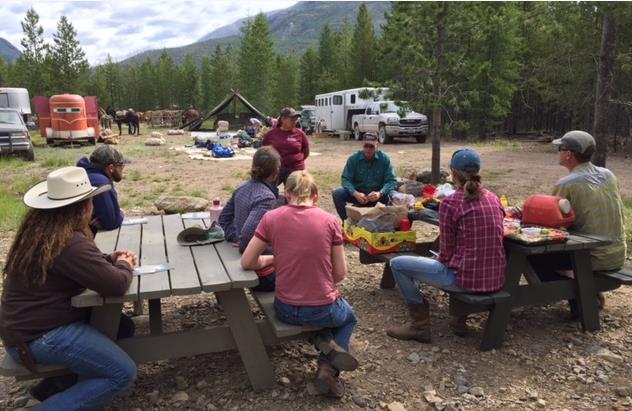 June 23 I was picked up at the hotel by Connie Long and we made the hour long trip to the trailhead northeast of Missoula in the Scapegoat Wilderness of the Bob Marshall Wilderness Complex (there is a total of 1.5 million acres in the complex). Upon arrival about noon that day, we got our introductions made of everyone that was going on the adventure. We had an orientation about the trip and also got instruction on Leave No Trace (LNT) principles that are applied by the various user groups that appreciate the "wilderness" and want to preserve it for those that will follow behind us in the years to come.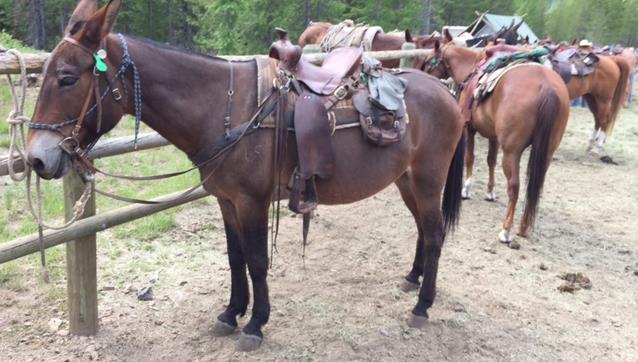 We were then assigned our mounts and began loading up. I was assigned to a good size mule named Sadie who is Mack's saddle mule of choice when he is not riding his saddle horse. It was obvious that Mack had spent quite a bit of time thinking through what mounts would best fit their rider.
There were a total of 23 head of stock, 8 horses and 15 mules. 10 of the mules were the pack stock. The people included four staff members and 9 students/guests.
The honcho of the adventure was Mack Long (a retired Fish and Wildlife regional supervisor in Montana) along with his wife Connie. They own and operate Bob Marshall Wilderness Outfitters. There were two wranglers and a cook. The wranglers included Chris (head wrangler) and Jackson (wrangler and musician). The cook was Kristy who also rides drag on the trail and is an accomplished quarter horse gal in her own right.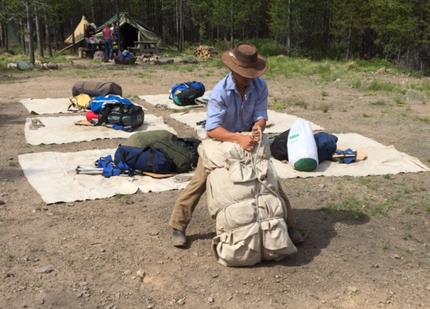 The guests included Colby from CA who won the scholarship, Melissa from WY who was awarded a second scholarship at the last minute. Both of these winners are students at home with aspirations of making their livings in the outdoors industry in some fashion including the possibility of packing.
There were two staff folks from The Wilderness Society. Jennifer and Scott. Scott's wife Angela, is a wildlife biology professor nearby (they have traveled extensively around the world doing outdoors research). Barbara is a nurse in Missoula. Lee and Linda were both retired ladies from the Missoula area that seem to really enjoy their time on the trail. Then, there was myself, Roy Cornett, real estate appraiser/trail rider from KY.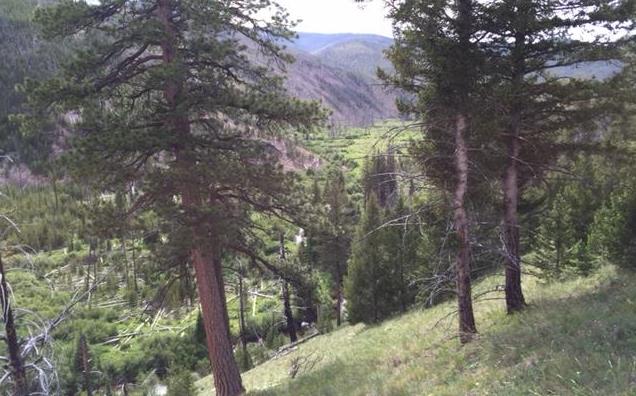 We were briefly exposed to the packing world by watching the wranglers sort out all of the equipment that had to be "packed" in order to prepare it for going on the pack stock.
We headed out on the trail for the Canyon Creek trailhead that took over 4 hours (~15 miles). The trip went very well. It took some experimenting to see which animals would tolerate being near which animals. The area around us had all burned extensively in 1988 (this was the same year that Yellowstone burned extensively although it was a different fire). It still looks very devastating after all these years.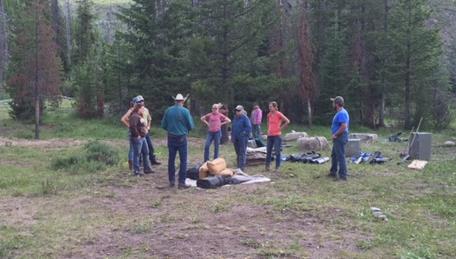 Upon arrival in camp we were instructed on procedures with our cots, tents, picket lines, latrine, etc. The first evening meal was the traditional meat balls for trail trips in the area. Most folks opted to sleep in their tents but I slept under the stars.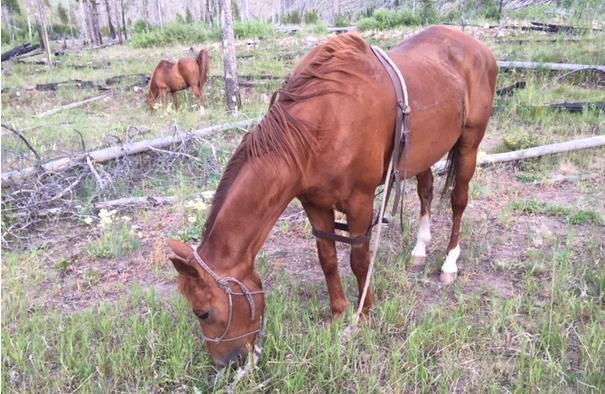 The stock management is interesting to watch. The horses are turned out with hobbles (hobbles like I had never seen before) and bell horses (4 horses were wearing bells so that we could hear where they were) for 3 hours in the evening and again in the morning. The mules are on the highline in camp while the horses are grazing.
The mules are then turned loose with no hobbles or halters. They are loose over night. The horses are on the highline overnight.
When the mules were initially turned loose they ran around quite aggressively looking for the nearest dust hole in which to roll. It was quite interesting to watch them fret over who got first dibs on the dust holes. They hung real close to camp during the night!!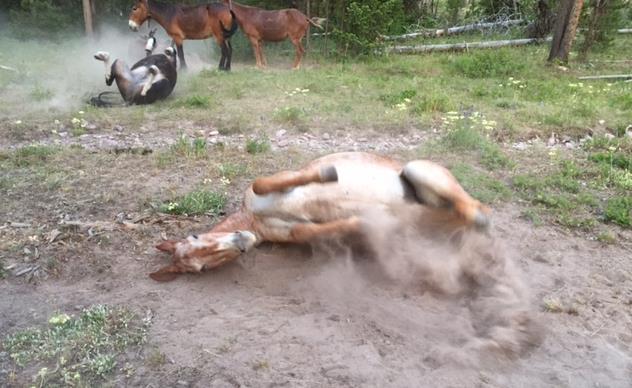 So close, that one of them actually bumped my cot about 3:30 AM. That was an interesting experience. Think about the scenario. We had been talking about the fact that there are black bears, grizzly bears, moose, elk, etc in the area. Knowing this, and you feel a "bump" in the middle of the night, it's interesting! The mules are reported to be excellent "watch dogs" if there is anything going in camp over night.
June 23, we get some instruction on saddling and bridling our own mounts that morning. We had 7:30 breakfast and headed out for our next camp known as "Limestone" which is just south of the "Danaher". This ride was about three hours (~9 miles). Upon arrival at camp we were greeted by a nice shaded camp area with good water access and grass for the stock.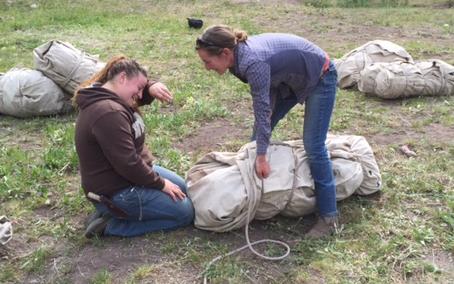 We got some instruction on how to "manti" a pack. Afterwards, we had a leisurely afternoon and evening around camp.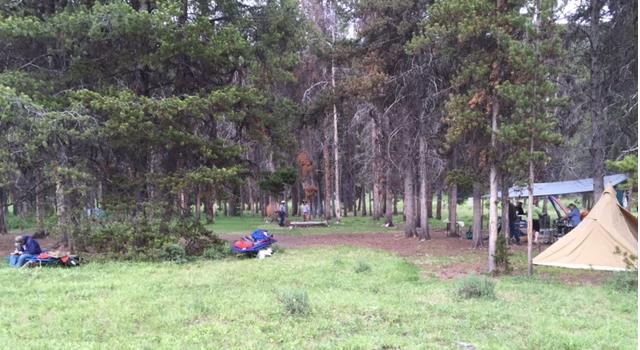 Our evening meal was Bar B Que chicken cooked over the open fire. After some story telling by Mack, Jackson (the youngest wrangler) did some singing and playing his guitar (see the picture below) that he got from Smoke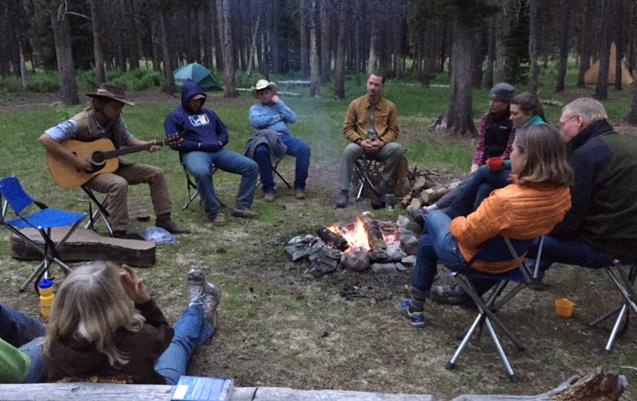 Elser who is a famous retired packer in the area that is actually the primary mentor to the Long's as they have built their packing business.
June 24 we had an 8:30 breakfast and then got some instruction on tying packs onto the mules.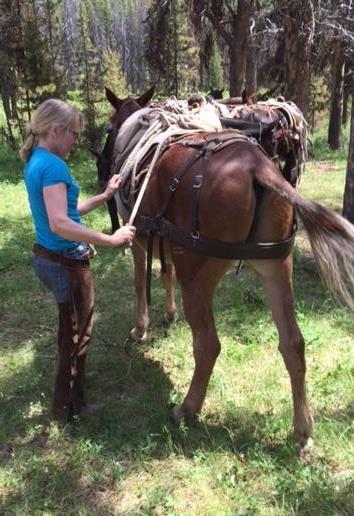 This requires some pretty serious concentration on learning some specific knots.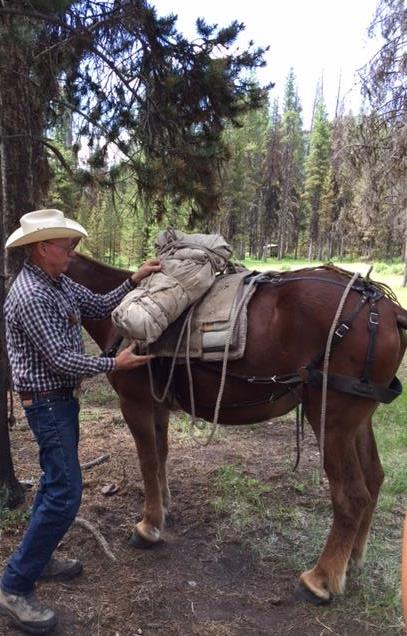 We then headed out for our day trip to the "Danaher" itself. This is a well known area where there was a homesteader (Danaher) who had established a community about 1900 hoping that the railroad would follow through with their plans to run a rail line through the area. Those plans never materialized and his settlement vaporized around 1905. The Forest Service began to acquire the lands in the 1930's.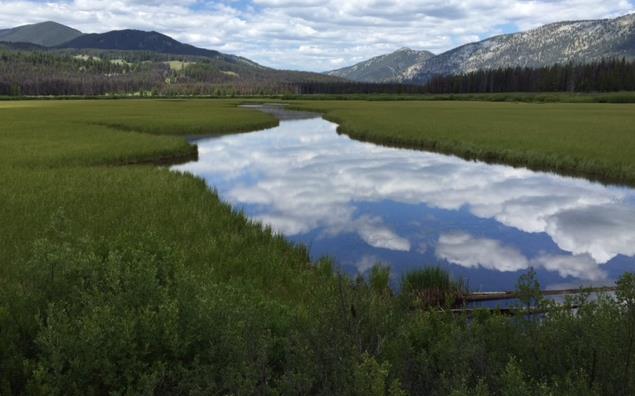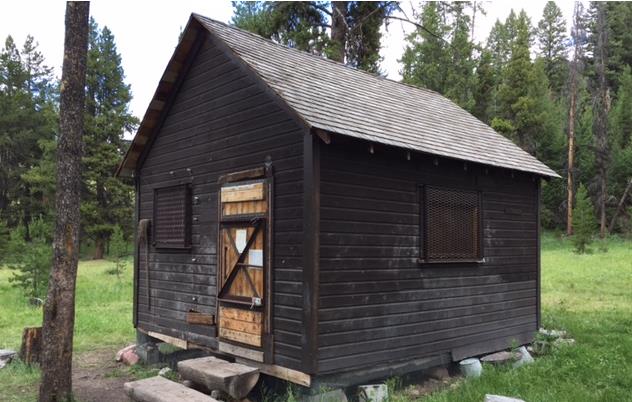 We ate lunch at the Danaher Guard Station which is a very small cabin along with a small stock corral. This cabin is ravaged quite often by the Bears in the area. Mack advised that he has packed materials into the cabin to make repairs over the years.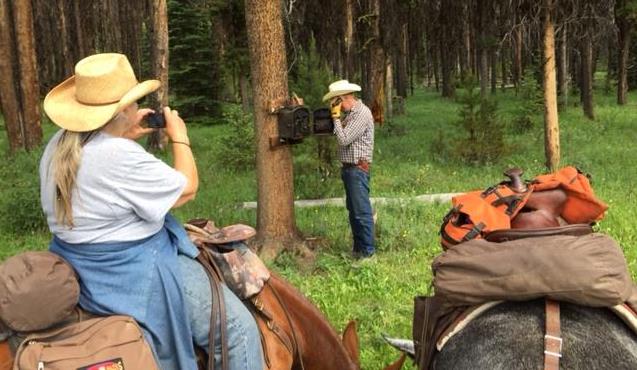 We then headed on up in the Danaher to an old forest service telephone. This is literally a ~100 year old phone on the side of a tree in the middle of nowhere that still works. This phone system is listed on the National Historic register. Mack demonstrated how it works and someone (staff of the Montana Conservation Corps) answered it from a cabin in the Basin of the "Bob". They were quite surprised that someone was calling them. Thus the title of this story "Call to the Wilderness".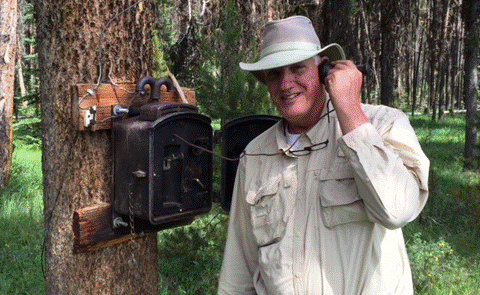 I found myself asking if I could apply for the job of maintaining the phone lines. You talk about job security? The wires are run between the trees when there are trees there and otherwise there are small poles for the wire. I am sure that the wires are knocked down quite often in the area. Someone suggested that I would be well suited for the job with my height of 6'5" and my passion for the outdoors. I am a pretty serious claustrophobic so the great outdoors suits me just fine.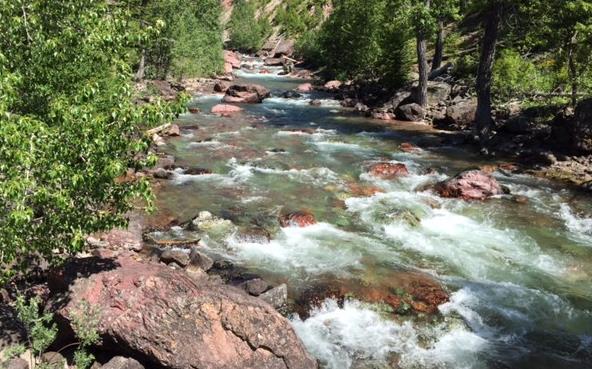 We had a lot of fun talking about the public phone in the Wilderness. We headed back to camp then. It wound up being about a 6 hour trip total that day. Everyone was pretty tired and ready to relax. Our baths are taken in the nearby stream which is pretty cold due to the fact that is mostly coming from snow melt.
The evening meal was spaghetti, peas, salad, lemon cake, garlic bread, etc.
The excitement for the day involved Scott and Angela's encounter with an aggressive grouse while they were hiking. I should point out that this couple has spent time in Zambia, Africa doing wildlife research where Angela has stood her ground against aggressive lions in the wild several times. It seems the "aggressive grouse" was too much for her, she tucked tail and ran. Scott says that he did hold his ground though! Lol.
The campfire conversation was mostly about policy decisions by the elected officials as it relates to our public lands. There was a lot of experience in this arena amongst those of us on the trip. We all had different but genuine fields of expertise contributing to the discussion. The campfires themselves are always in established fire rings or in a fire pan that is packed in and out of camp.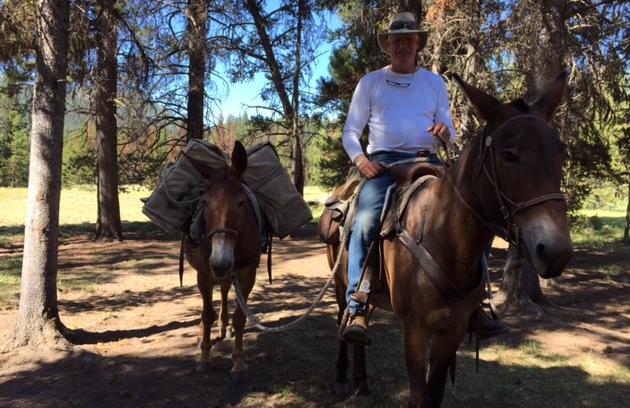 June 26
Breakfast call was 7:30 along with us having to have all our gear piled up and ready for packing on the mules in order to get an early start. The weather was going to be hotter. So far we have been lucky with the weather. Generally, it has been in the 80's in the daytime and the 30's at night. There was just one very brief and light rain about 3:00am one morning (I pulled a manti tarp up over me for cover). On this ride the students/guests were expected to saddle their own pack and riding stock (everyone was assigned a pack mule) and then load a mule with the packs/manti's. My pack mule was Sally who is one of the bigger and more settled mules in the string.
This process was time consuming but beneficial to the learning process. We left camp just before 11:00. We were out a little over 4 hours with a lunch break about half way. At one point we had two of the young mules break loose (one of the wranglers had three with him) which created some drama/excitement for a bit. They ran back and forth up and down the trail until they were caught. The important point here is that the packs on these run away mules stayed in place. If they are not balanced well, they can "roll" around and under the mule which is a set up for serious problems. We were headed back toward the trailhead with the vehicles essentially retracing the original route that we took other than a few side trips. It got much hotter (in the upper 90's). There is a lot of talk in camp about how everyone's batteries are beginning to dwindle on their cameras.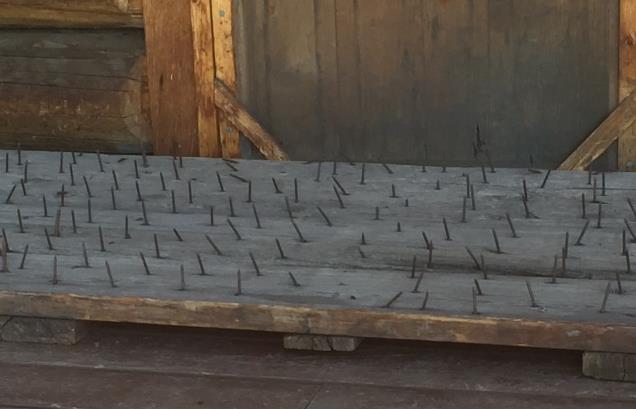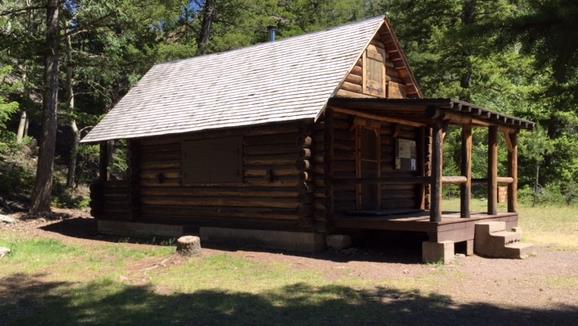 We stopped at the North Fork Station in the Lolo National Forest while the staff went on down to check and be sure the preferred camp site is available. The welcome mat on the porch in front of the door with the nails sticking through is to deter the bears from doing too much damage to the doors when the bears are trying to break into the cabin.
The report that we got in regard to the availability of the camp site that we wanted was that there were no camp sites available for camping with our stock. Mack offered to drop the students/guests off at a camp site for people and the wranglers would take the stock on down to the trail head at the North Fork (another 2.5 hours each way). That was going to be way too much work on the staff. We opted to ride on out to the North Fork trail head which made it a total of 7:45 hours on the trail (~23 miles that day and a total of ~62 miles for the whole trip).
Let's put this in perspective about how open and untrammeled this place is. We only saw one Forest Ranger and a couple hiking with their dog on the way in.
We saw a small pack string of 6 head of stock with the handlers leading the stock go past our camp at Limestone one afternoon. Then on the way out we saw two fellows with 4 horses, a fellow with 2 horses, a single older fellow with his dog, another outfitter with a group about the same size as ours and several fly fishermen. That struck me as being very few people. Mack felt like it was way too many. I should point out that most of this was within 3 hours of the trail head.
Everyone was moving pretty slow upon our arrival to camp. We finally got reenergized and established a plan in regard to where to put the saddles, stock, etc. Kristy cooked pork chops, salad, peas and banana pudding. It was pretty hot and dusty on the way out. It was a tough day but the right decision was made in regard to getting on out due to the lack of an adequate camp site.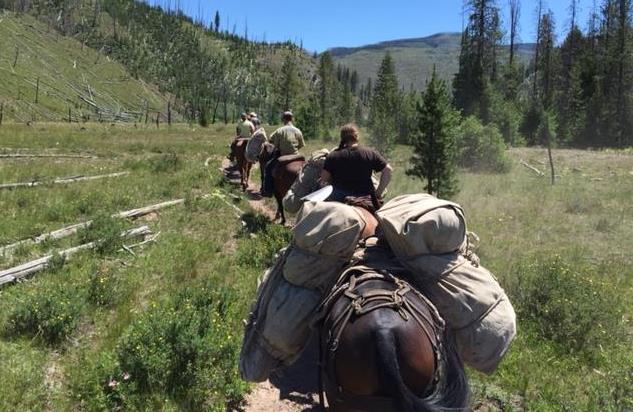 We had a visit from the local game warden upon our return who Mack knew well. He was quite an interesting and talkative fellow. He advised that a third of his district is in the Wilderness requiring him to use stock for access to a lot of his district which runs all the way up to the Canadian border.
We had a camp fire that prompted a lot of silly discussion about a lot of subjects ranging from politics to movies. Jackson finished off the evening with some music.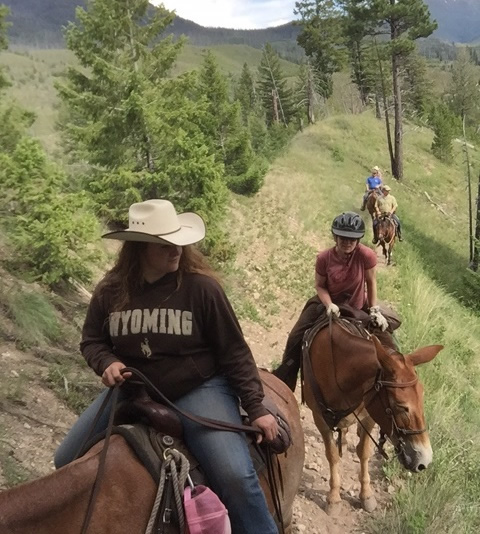 June 27
We slept in until about 8:00. We had breakfast and talked about tack recommendations, resources for buying tack, packing questions related to packing out with game harvest such as elk, what type of hardware to use on tack, conservation groups that we are involved in around the country, etc. We then reviewed what we had learned by packing a manti, saddling a mule (Logan was very patient), etc.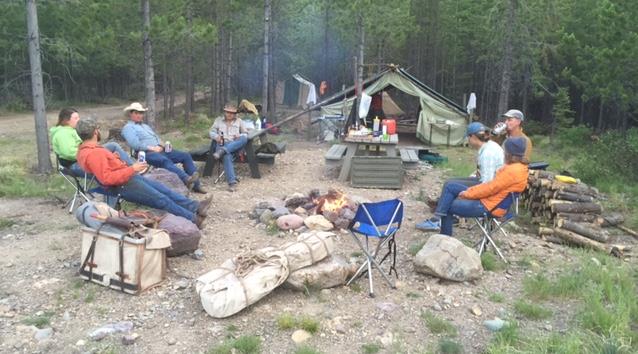 We wrapped up our instructional sessions reviewing what we had learned.
We then settled in for a video interview with the two scholarship winners to hear what their parting thoughts were. Keep in mind that our primary objective was to set up a mechanism in getting youth included in what we do as horse enthusiasts. I think that we have settled upon a good means by which to accomplish that goal. We need to build upon this idea and see that more and more youth are exposed to the experience. It was worthwhile to say the least!!!
The good byes were said and we headed out in our different directions.
Arrived back at the hotel about 1:00 and reality settled back in when I had to begin catching up with the outside world again.
A GREAT ADVENTURE. THANKS TO EVERYONE THAT HELPED MAKE IT HAPPEN.
Roy Cornett