History
Back Country Horsemen's cornerstone was laid on a firm  foundation of research and planning. A small nucleus of back country horse users developed and modified the original concept.The actual formation of BCH took place in Montana's Flathead Valley in January of 1973. Since then, our progress is a matter of record, a record of which we are very proud.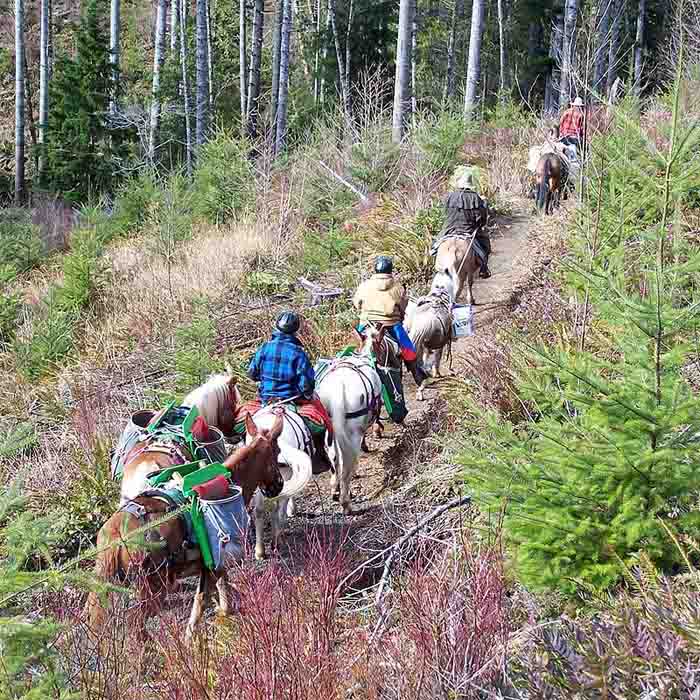 We have used our specialized knowledge of stock and the back country to bring about changes and modifications of restrictive management. We have participated in many agency meetings and land use planning and regulations and have become a strong voice for continued, responsible horse use. We have arrived at our position through extensive research and discussion. This responsible approach has assured us of valid consideration regarding regulations and planning and has given us the support of other conservation groups.
Growth of the Back Country Horsemen organization continued with formation of additional chapters in Montana. In 1979, these chapters and one from Salmon, Idaho, formed the Back Country Horsemen of America. Three more Montana chapters and one from Idaho were added in the next few years.
The Back Country Horsemen of Washington was incorporated in 1977 and developed an informal liaison with the Montana and Idaho Back Country Horsemen. In 1981, a California organization was formed known as the High Sierra Stock Users. After several years of discussion, the four groups decided to merge, using the Back Country Horsemen of America name. A constitution was drafted in 1985 and adopted in 1986. It provided that the governing body of this new organization would be a board of directors elected from each state. Montana, Idaho, California and Washington Back Country Horsemen units became the BCHA. Since that time, there has been steady growth within the four founding state organizations and in other states.
Founding Fathers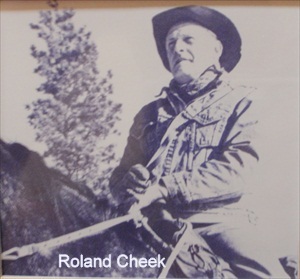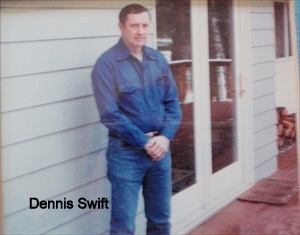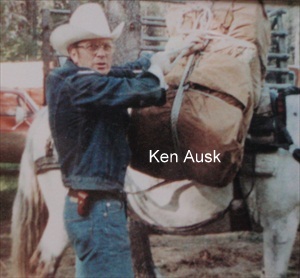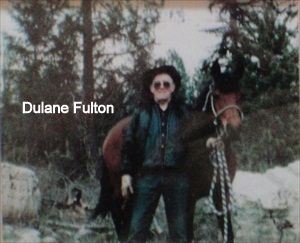 Roland Cheek, Dennis Swift and Ken Ausk hunted together in almost the exact center of the Bob Marshall Wilderness. They all had years of experience with horses. Nights are long in the Bob in the latter part of September and their evenings weren't filled with the usual hunting camp lies, but in trying to find a solution to the horse user problems. The situation was talked about the fall of 1971 but it was 1972 before they finally decided that their only hope was to form an organization. Roland Cheek was the Safety Director for Plum Creek Lumber, Dennis Swift a Forester and Planer Mill Foreman for Stoltz Land and Lumber, and Ken Ausk worked for the Bonneville Power Administration. Roland became an outfitter about this time, Denny became a guide, and Ken became a wrangler and packer.  They needed someone who was available during the day so they twisted the arm of Dulane Fulton, a fellow horseman who had recently retired from a school superintendant position.  Wilderness was brand new and it was several years before regulations were adopted for management which caused them many problems.  The Bob had been a Primitive Area and showed a lot of signs of neglect and abuse.  You couldn't ride a hundred yards without candy bar wrappers or cigarettes butts in sight. There were beat out camps and barb wire corrals which didn't look good for horsemen. We had to clean up our act and influence land use planning form of recreational use for access to survive for our children. Many evenings were spent building the framework for an organization that would be both supportive and critical of Forest Service land management proposals, by its very nature.
Our name was chosen because it signified an interest in much more than wilderness. Members are interested in perpetuation recreational stock use on virtually all public lands.
We may never know the exact words that Ken Ausk, Dulane Fulton, Dennis Swift, Roland Cheek or their wives spoke of over the kitchen table in Columbia Falls Montana, nor what was said in the wall tent next to the wood stove and hissing Coleman lantern in the Bob Marshall Wilderness during the early 70's.
What we do know is that after a liberal sampling of Early Times Whiskey, the voices of reason began a plan a recipe and vision that would forever change the way horsemen think and act in the back country.
The back country was being loved to death by the placement of permanent camps, corrals, piles of garbage, not to mention human waste, and dying trees due to stock being tied to them causing root damage. The Forest Service was suggesting that many camping and prolonged use areas were to be closed to stock use.
Our BCH Founders found a recipe that was presented to the USFS, general public, recreational and commercial pack and saddle stock users. All found these use guidelines much more acceptable than the proposed closures and regulations. These four men and their supporters never dreamed that they were the initial developers of programs like Tread Lightly and Leave no Trace stock management programs, even before there was ever any thought those organizations. They also had no idea that this would spread within the United States from sea to shining sea with 31 state organizations and potential states as well as nearly 12,000 members of today.
Back Country Horsemen as well as the general public protect, preserve, and promote these proactive protective measures of equine use where ever we are, and remember that with this recipe and vision we stand on the shoulders of these Great Founders and Giants of the Back Country Horsemen of America.
Rolland Cheek is the last remaining Founder alive.

Charles Dulane Fulton founder of BCHA died in his sleep Sunday, Jan.15, 2012
Kenneth Lyle Ausk founder of BCHA passed away peacefully Dec. 2, 2014